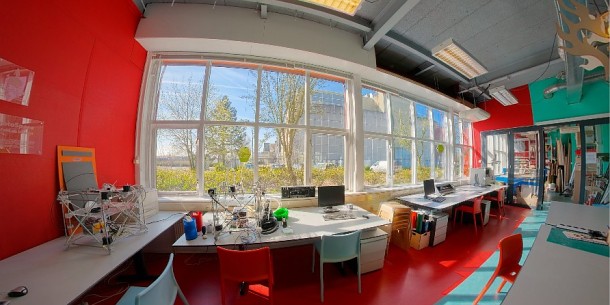 One of the free Smart IBL sets of ProtoSpace's office interior.
HDR Labs has released six new free 'Smart IBL' HDR sets.
The sets include five captures of an office environment (the workshop of Dutch 3D printing company ProtoSpace – which seems to boast a working environment far funkier than the average company) and one from HDR Labs' Dutch Skies series.
Each Smart IBL set comprises an ultra-high-res panoramic image, for use as a backdrop in a scene; a high-res HDR, for use in calculating specular reflection components; and a blurred low-res HDR for use in diffuse environment lighting.
The system works with 3ds Max, Maya and Softimage through a standalone GUI; and with Cinema 4D, LightWave and modo through loader scripts.
Download the five ProtoSpace office sIBLs (scroll down to find link)
Download the Dutch Skies sIBL from the 3D World website