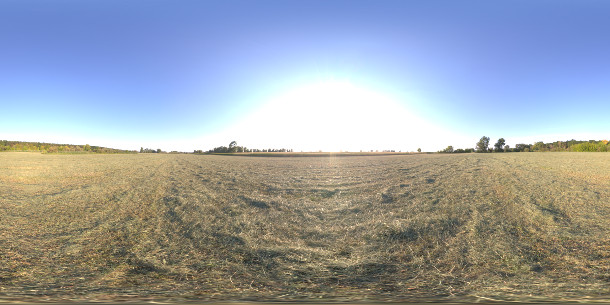 A low-dynamic-range preview of Sky 146 from HDRI Skies' set of 500 freely downloadable HDRIs.

Originally posted on 8 February 2016. Scroll down for updates.
Resource site HDRI Skies has made mid-res versions of its HDRI files available to for free, including for use in commercial projects. The files are provided in HDR format at 2,048 x 1,024px resolution.
The focus of the site being the skies themselves, the images are all shot in flat countryside, largely parks, grassland or fields in temperate countryside: presumably in Poland, where the site is based.
Images can be searched by time of day, and there are also a range of times of year and weather conditions, including varying degrees of cloud cover, plus mist and fog.
Register to download low-res HDRIs for free
To download any of the free HDRIs, you'll need to be registered with the site, but again, that's free. Each can be previewed as a 360-degree interactive online panorama before downloading.
HDRI Skies also sells hi-res versions of the files – resolutions of 13,000 x 6,500px and above – both as individual downloads and as packs of 20 full spherical HDRIs.
More free resources to come
Site founder Agata Galewska tells us that she aims to publish a new set of high-quality HDRIs on the site next month, so it's worth checking back regularly.
HDRI Skies' sister website, Texturify, which we wrote about last year, also offers a range of free texture resources and 360-degree spherical environment maps.

Updated 17 June 2016: HDRI Skies now has 200 free HDRs available to download. In addition, the full-resolution versions now come with 5K backplates. You can download one free 15K HDR here.

Updated 4 March 2020: HDRI Skies has now reached 500 free HDRs available for download. The newest files on the site have a full resolution of 20,000 x 10,000px: the hi-res versions cost €10 (around $11).

Download 500 free HDRIs from HDRI Skies
Tags: 13K, 15K, 2K, commercial use, download, free, HDR, HDRI, HDRI Skies, high-resolution, price, sky, Texturify