Monday, December 23rd, 2013

Posted by Jim Thacker
Frankie 2.2: like cineSync, but in your web browser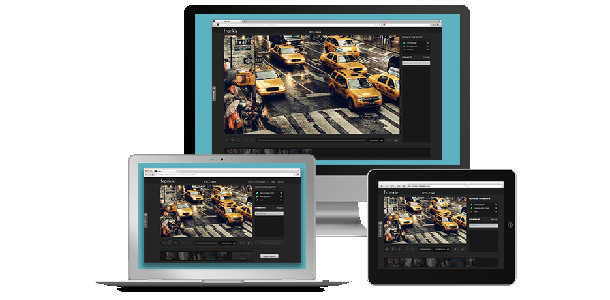 Cospective's new online service, Frankie 2.0, builds on the technology behind the developer's Academy Award-winning cineSync to provide a remote shot-review and approval system that runs in an ordinary web browser.
Originally posted on 29 August 2013. Scroll down for updates.
Cospective, developer of the Academy Award-winning cineSync shot-review system, has launched Frankie 2.0, a new service that offers much of the same remote viewing and approval functionality via a web browser.
The developer originally announced that it was working on an online shot review system back in 2011.
How Frankie works
Frankie 2.0 enables users to view video footage in standard file formats – including MOV, MP4, AVI and FLV – collaboratively in Chrome, Firefox or Safari, and mark up changes required on screen.
Thumbnails of each frame discussed, complete with annotations, are automatically saved as a PDF, complete with any text-based notes added.
Since the system is browser-based, it requires no installed software, and runs on mobiles and tablets.
For smaller studios, and the small at heart
Cospective is targeting Frankie at teams creating short-form and web content, but we can imagine a number of smaller VFX houses wanting to check the system out, too.
Pricing starts at $249 per month, which lets you run five projects concurrently. There's no limit on the number of users or review sessions, but you are restricted to 10GB of online storage.
Updated 15 November 2013: Cospective has released Frankie 2.1. New features in the update include pan and zoom tools, and the option to add your own logo to the review interface.
Updated 23 December: Frankie 2.2 is out, adding new options for controlling synchronised client review sessions.
PRESS RELEASE (Excerpts)
Cospective, the creator of cineSync, has announced the release of Frankie 2.0, an easy-to-use browser-based video review tool. Frankie allows interactive, collaborative video review from any location where there is an internet connection. Based on cineSync technology, Frankie is an innovative browser-based tool for live, interactive video review. Frankie 2.0 also allows individual team members to initiate reviews at their convenience and save their session notes, for others to review and add to later. With this added power and convenience, creative agencies and postproduction facilities can now review short-form content with colleagues and clients regardless of geographic location or time zones.
How Frankie Works
With Frankie, videos are uploaded once and stored in the cloud. There is no software to install. Users access Frankie through their browser and can play or pause content, make notes, and even sketch ideas right onto their video images. After the review is complete, Frankie generates a PDF summary of the session, including stills, notes and drawings. The PDF record is sent to all participants.
Frankie 2.0 allows users to complete video reviews, either on their own time or in group sessions with multiple participants. Individual reviews make it easy to accommodate the schedules or time zones of different team members. Group sessions include synchronized playback so that every member of the team sees the same frame at the same moment. Frankie 2.0 also allows any individual reviewer to de-couple their own playback during a synchronized session so that they can focus on a specific area in a video, while their colleagues continue the shared discussion. In each of these scenarios, the session notes from all participants are collected into a final PDF summary ensuring everyone has a complete record of the review.
"Frankie allows our teams to collaborate and share work internally between our three locations," said Lee Konen, creative director at Cerebral Lounge. "We use it every Monday to review the previous week's work so the entire creative team can see what everybody else has been doing."
Specializing in postproduction of network promos, commercials and visual branding, Cerebral Lounge depends on a shared review workflow between its offices in Washington, DC, Baltimore, and Silver Springs, MD. "It is so much easier to explain things and share ideas with the video images in front of everyone," added Konen. "Frankie improves our efficiency significantly and doing the reviews together makes feedback immediate and meaningful for our dispersed team."
Built on Award-Winning cineSync Architecture
Frankie is based on the Academy Award®-winning cineSync software first released by Cospective in 2005, but is a lighter, browser-based tool, ideal for short-form content, such as commercials, short films or web content. It runs inside standard browsers and platforms, including Mac, Windows and iOS mobile devices.
"Frankie solves the same problems cineSync does, but is much easier to set up," explained Jeremy Pollard, Frankie product manager. "You can invite new users to a review while you're on the phone with them. All they do is click on a link and they're in. It's that simple and that fast."
Frankie in the Field
Frankie has been implemented by advertising agencies, production companies, post houses and animation studios over the past year. Heckler is a postproduction facility in Surry Hills, Australia specializing in editing, color grading, compositing and animation for commercials work.
"Frankie helps us in every stage of our production workflow, from concept to final feedback," said Thandiwe Philips, VFX coordinator at Heckler. "We rely on Frankie to host dailies among our artists working remotely on commercials. It leads to much better communication as we see exactly what others are referring to. This makes the process so much quicker for everyone. We no longer burn time with complicated briefs and unaddressed feedback."
Heckler finds that works-in-progress can be reviewed and discussed quickly, using Frankie's drawing tools to illustrate ideas. "We use Frankie to discuss storyboards and sketch out ideas to make sure everyone is on the same page right from the start," explained Philips. "One of our favorite aspects is the PDF note summary. It's like the minutes of the meeting, only better, since it includes pictures."
"We've been very gratified with the early response to Frankie," said Pollard. "With the explosion in video for all kinds of platforms, more and more people are looking for a simple review tool for planning and shaping content, regardless of their location. Frankie meets that need perfectly."
Availability
Frankie plans start at $249 USD per month, which includes up to five concurrent projects, unlimited users, unlimited reviews, 10 GB of video storage and complete cross-platform compatibility. Monthly subscriptions can be cancelled at any time.