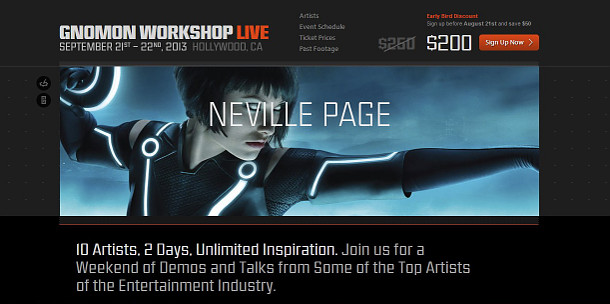 Gnomon has announced the speaker line-up for its next Gnomon Workshop Live event, bringing together ten stars of concept art, visual effects and games at the school's Hollywood HQ from 21-22 September.
The event features 90-minute demos from each of the artists, including legendary concept designers Neville Page and Dylan Cole, and Industrial Light & Magic's Vitaly Bulgarov, James Clyne and Ryan Calloway.
The world of games is represented by Kojima Productions' Gavriil Klimov and Blizzard senior cinematic artist Dominic Qwek, while prize for coolest job title goes to 'non-linear concept ideator' Izzy Medrano.
As well as the talks themselves, the breaks between sessions provide a great opportunity to hang out with the speakers and network with fellow attendees.
A standard ticket costs $250, but anyone registering before 21 August saves $50, while students get in for $150.
Read more about the speakers or buy tickets on the Gnomon Workshop Live web page
Full disclosure: CG Channel is owned by the Gnomon School of Visual Effects
Tags: 2013, Blizzard, Dominic Qwek, Dylan Cole, event, Gavriil Klimov, gnomon workshop live, Hollywood, ILM, Industrial Light & Magic, Izzy Medrano, James Clyne, Kojima Productions, line-up, Neville Page, presentations, Ryan Calloway, September, sessions, speakers, tickets, Vitaly Bulgarov