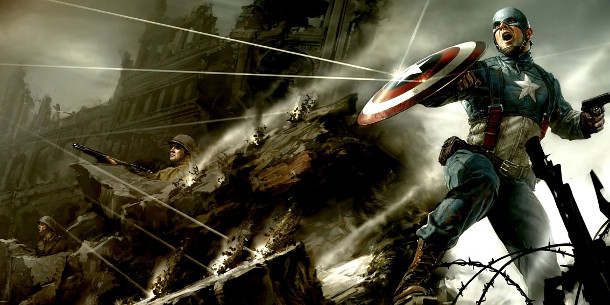 Marvel Studios head of visual development Ryan Meinderding heads up this September's Gnomon Workshop Live: a chance to meet the world's leading concept artists and discover their working methods.
The Gnomon Workshop has announced the speakers for September's Gnomon Workshop Live: a two-day series of live demos from the world's leading concept artists, held at the school's Hollywood headquarters.
Marvel and Naughty Dog artists head line-up – with mystery guests to come
Marvel fans will be pleased by this year's line-up, which features sessions from Marvel Studios' head of visual development Ryan Meinerding, and character sculptor – and CG Channel interviewee – Josh Herman.
Last of Us and Uncharted developer Naughty Dog is also well represented, with sessions from concept artists Aaron Limonick, John Sweeney, Nick Gindraux and Eytan Zana.
The line-up is rounded out by Men in Black and Hellboy veteran – and recently, Prometheus creature designer – Carlos Huante and Riot Games senior concept artist Trevor Claxton.
There are also two mystery guest speakers to be announced in the coming weeks – details of which can be found by following The Gnomon Workshop on Twitter.
Updated 28 August: Gnomon has announced the identities of the final two speakers for the event – Blizzard Entertainment lead character artist Tyson Murphy, and Daniel Dociu, chief art director at NCSoft.
Tickets and directions
Gnomon Workshop Live takes place in Hollywood from 27-28 September 2014. Tickets cost $250, with a $50 discount if you sign up before 30 August, or $150 for students. Find directions and full details at the link below.
Register for Gnomon Workshop Live on The Gnomon Workshop's website
Full disclosure: CG Channel is owned by the Gnomon School of Visual Effects.
Tags: Aaron Limonick, Carlos Huante, dates, directions, Eytan Zana, Gnomon, gnomon workshop live, Gnomon Workshop Live 2014, John Sweeney, Josh Herman, line-up, Marvel Studios, mystery guests, naughty dog, Nick Gindraux, price, Riot Games, Ryan Meinerding, speakers, The Gnomon School of Visual Effects, The Gnomon Workshop, tickets, Trevor Claxton