Monday, April 15th, 2013

Posted by Jim Thacker
Autodesk opens app store to Maya, 3ds Max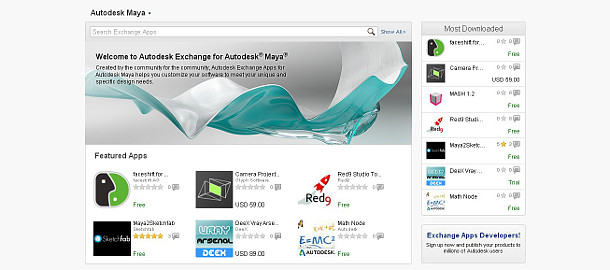 Autodesk has opened its Autodesk Exchange Apps store to 3ds Max and Maya.
A repository for user-created add-ons Autodesk has vetted, the store was originally launched as a standalone website last year for the company's engineering products, including AutoCAD, Inventor and Revit.
Max Underground reported on the addition of 3ds Max to the store late last week: we assume that Maya support was added simultaneously, but we'll update if we hear differently from Autodesk.
More than just software
For the purposes of the store, 'apps' are defined as any content relevant to the application in question, including plug-ins, standalone applications, libraries, training materials and e-books.
Autodesk currently charges no commission on content sold through the store, although the Publisher FAQ notes that it could charge up to 30% commission in future.
The developer uses a standard EULA for content sold through the store, and creates its own standard installer for content and plug-ins, but no additional copy protection.
All content on sale must be compatible with the latest version of a software package and written in English, although Autodesk plans to support localised versions of apps in future, and possibly upgrade pricing.
No change in pricing
At time of writing, the 3ds Max store contains 15 apps, and the Maya store 23, the majority free. As far as we could see, none of the commercial developers had changed the prices specifically for Autodesk Exchange.
However, the fact that the store is priced in US dollars may provide a more convenient way for North American users to buy tools like Marius Silgahi's 3ds Max plugins, which are usually priced in Euros.
Visit the 3ds Max store on the Autodesk Exchange Apps site
Visit the Maya store on the Autodesk Exchange Apps site