Friday, November 2nd, 2012

Posted by Jim Thacker
Autodesk introduces 90-day licences for Max and Maya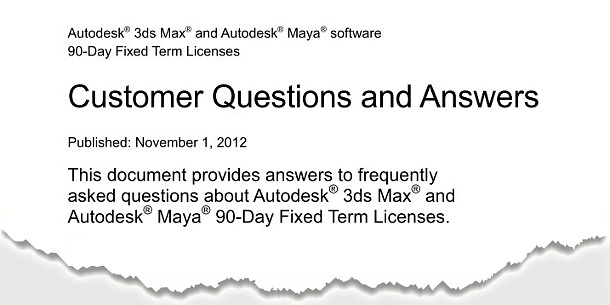 Autodesk has introduced new 90-day licences for 3ds Max and Maya, priced at $199 each.
Unlike the existing 30-day demos, the new licences are intended for commercial work, and are described as 'project licences'. However, they're still limited to one per user, with no extension or upgrade possible.
Unsuprisingly, the new licences do not come with subscription. Instead, Autodesk is offering 'Up & Ready' support, which covers installation issues, but not operating the software.
At present, 3ds Max 2013 and Maya 2013 90-Day Fixed Term Licenses are only available in the US and Canada. The offer is only guaranteed to run until 31 March 2013, but there is no time limit on activating each licence.
Read Autodesk's licensing FAQs
Buy a licence from Autodesk's online store (US and Canada only)