Monday, October 8th, 2012

Posted by Jim Thacker
Pixar ships RenderMan Pro Server 17.0 and Studio 4.0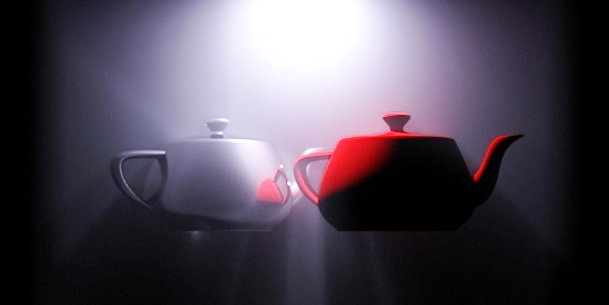 Isotropic volume scattering in RenderMan Pro Server 17.0. The latest release of Pixar's renderer includes a number of other performance updates, including improved object instancing and photon mapping.
Pixar has released RenderMan Pro Server 17.0 and RenderMan Studio 4.0, the latest updates to its movie-industry-standard rendering software.
The new features in both versions are largely performance-related, including improved object instancing, photon mapping, volumetric rendering and adaptive area shadows.
Pixar doesn't quote any figures for the improvements above, but "performance gains of 32% are typical" when rendering hair via the riCurve primitive.
There is also a quoted performance gain of 20% when using arrays in the RenderMan Shading Language.
Price changes for Studio
As announced in June, RenderMan Studio 4.0 now incorporates the old RenderMan for Maya product line, and has dropped $700 in price: from $2,000 to $1,300.
The new version is intended to be used either as an interface from Maya to a renderfarm running RenderMan Pro Server; or for local preview or final-quality output via its embedded renderer.
Pricing for the top-of-the-range Pro Server 17.0 remains unchanged at $2,000, following a price cut in 2010.
PRESS RELEASE (Excerpts)
Pixar Animation Studios today simultaneously released RenderMan Pro Server 17.0 and RenderMan Studio 4.0, extensively upgrading its Academy-Award®-winning rendering software renowned as the industry standard for the highest quality animation and photorealistic visual effects.
Amongst many powerful feature highlights, RenderMan Pro Server 17.0 includes significant performance gains including object instancing, photon mapping enhancements, and volume-rendering optimizations, all developed for the escalating visual demands of today's feature films. RenderMan Studio 4.0 features include a new physically plausible shader library allowing Maya users to intuitively focus on the creation of photorealistic imagery, with an emphasis on artist-friendly out-of-the-box workflows. Both new releases are the result of an enormous collaborative effort combining the insight of the world's premier visual effects studios with Pixar's unparalleled rendering development expertise. Extensive beta testing has been unanimously positive:
"With its revamped photon mapping and volume rendering, RenderMan Pro Server 17.0 extends our shading framework across the board including awesome volumetrics. Coupled with true instancing, this release seriously extends our arsenal in its ability to handle incredibly complex scenes," said Philippe LePrince, Head of Lighting & Rendering at Double Negative, London.
"The new ray-tracing workflow in RenderMan Studio 4.0 helps us achieve photo-realistic results while decreasing setup time dramatically. The new physically plausible shading system makes RenderMan more artist friendly while maintaining the same deep level of customization we all love," said Leif Pedersen, Senior Computer Graphics Artist, Telefutura Network. "There are so many positive things to say about this release. I could go on for a while."
"We learned that object instancing was a key feature of RenderMan Pro Server 17.0 when we were starting a new project that we thought would be an excellent fit for this technique. We've worked closely with the responsive development team to achieve a level of visual quality and complexity that would have otherwise been impossible," said Daniel Heckenberg, Lead R&D Developer, Animal Logic. "Pixar's RenderMan is an extraordinary (and growing) toolbox of rendering techniques that we can customize and extend at almost any point. We're constantly advancing the limits of what we can realize."
"The new physically plausible shaders are great! They're easy to use and the results are incredible," said Tom Painter, Director, Bigman. "For beginners it's so much easier, but the coolest thing is RenderMan's hybrid architecture that offers so many advanced workflows such as baking shadows into the static background, and allowing us to reuse expensive FX whenever we want. Pixar has really delivered with RenderMan Studio 4.0."
Availability
RenderMan Pro Server 17.0 is $2,000 per license with volume discounts available for render farm purchases. RenderMan Studio 4.0 is $1,300 per license and compatible with Maya 2013 on Microsoft Windows, Linux, and Mac OS X. Upgrade pricing from RenderMan Studio 3.0 and the former RenderMan for Maya is available upon request. A student bundle consisting of both RenderMan Studio 4.0 and RenderMan Pro Server 17.0 is available for $200.