Tuesday, September 18th, 2012

Posted by CG Channel Administration
Book review: Exposé 10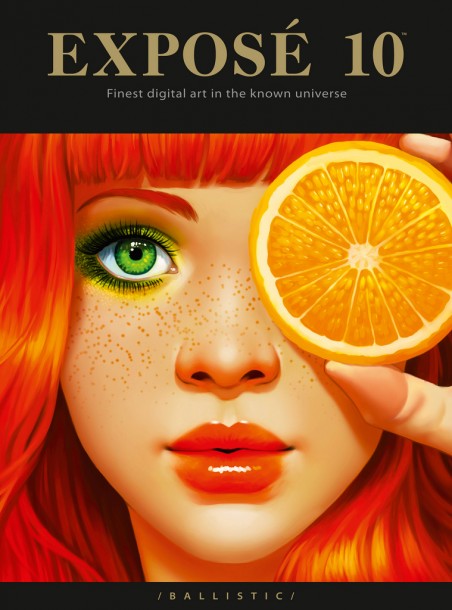 Ballistic Publishing's latest collection of the world's best digital art marks its tenth year in the business – but there's no sign of the formula going stale, says Fernando Caire.
For ten years, Ballistic Publishing has released one of the finest annual collections of new digital art from around the world. Over 3,300 published works and 68,000 submissions later, the format of the Exposé series is now well established – but the books themselves are bigger and better than ever.
At 288 pages, and featuring the work of 381 artists, Exposé 10 is the longest book in the series so far. It would be pointless to list all 20 of the categories into which the art is broken up, but themes range from painted portraiture to steampunk, by way of storytelling, surrealism and (my own personal favorite) comic/manga art. When you have over 500 pieces of art in a book, finding specific reference images can be a daunting task, but Exposé 10's structure makes it easy to find the kind of work you are looking for. Each category includes a hefty number of high-quality images, but the volume never feels overwhelming.
One common problem with books like this is that a lot of great art gets downsized to a ridiculous degree, just to make room for the other images. Happily, this isn't an issue with Exposé 10. It really feels like Ballistic allowed more room for each artwork this time round. I rarely came across a page that had too much crammed into the layout; nor did I find any great pieces that didn't get the space they deserved.
It would be impossible to list all of my favorites but then, I don't really need to. The interactive preview on Ballistic's website enables you to flip through every page for yourself. The print quality is, as usual, top notch. Balllistic went out of its way to color correct each piece individually, so every vibrant color pops and every tiny detail remains crystal clear.
Great expectations: greater results
Readers' expectations of the Exposé titles must be some of the highest in the industry – yet Ballistic Publishing never fails to meet those expectations. Year after year, the company collects some of the world's finest digital artwork and delivers it in one of the best collections available. Each one is a must-have for any artist or lover of art – and having read its books for the last few years, I think it is safe to say that Exposé 10 is one of their best yet.
Exposé 10 is available now in three versions, from the $69 softcover to the $170 leatherbound limited edition.
You can find full details via the link below.
Buy Exposé 10 from Ballistic Publishing's website