Wednesday, June 8th, 2011

Posted by CG Channel Administration
Review: Exposé 9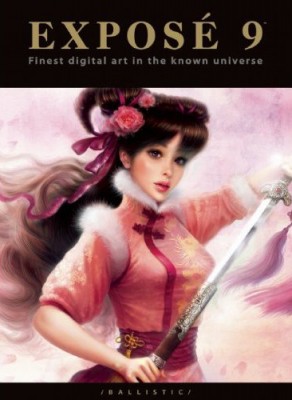 "I see here a new generation of fearless artists who are unafraid of embracing the latest technology to express their vision. The tools may be more complex and require time and skill to master but, as always, the strength and value of a finished work – regardless of the medium – will always rest on the power of the idea behind it."
-H.R. Giger, Exposé 8 Grand Master
Ballistic Publishing has once again outdone itself with its latest collection of computer-generated art. 'Finest digital art in the known universe' – the tagline for the company's Exposé series of books – is a bold claim, but not one made without good reason. A diverse collection of over 400 images, created by over 300 separate artists, Exposé 9 is packed to the rim with exceptional work, and will keep readers overwhelmed from beginning to end.
The book is a buffet for the eyes to feast on. With 20 sections, ranging from concept art to 'robotic cyborgs' (isn't 'robotic' a little redundant in that context?) it's hard to pick highlights, so let's start with the very first one, in which Daniel Dociu is named this year's Exposé Grand Master. Possessing an immense feeling of depth and scale, his work is something to be marveled at, and serves as the perfect introduction to 240 pages of lush, vivid art.
Strength in depth
The remaining sections cover all of the necessary bases. A healthy mix of digital painting and 3D modeling will make this a desirable book for both 2D and CG artists. Characters, creatures, environments, vehicles, comic-style art, matte painting, still life and a multitude of other subjects are all tackled. The range of subject matter can seem daunting at first, but there isn't a single page in the book that is not jaw-dropping.
Ballistic has chosen the best of the best here – and it shows. No matter what the subject matter, it is clear that each piece was constructed by a true master of their craft. I only wish I could talk more about the individual artists, but there are so many that it would be impossible without expanding this review to several pages.
If I had a complaint, it would only be the contents section. Each of the 20 chapters gets a title and a thumbnail image: the only thing missing is the page number it starts on. It's a minor inconvenience in a book designed to be flippable, but with so much content, making navigation accessible should have been a priority.
The book is available in three editions, from the $69 softcover version to the leatherbound $170 limited edition, which features an additional 16 pages of behind-the-scenes work and specially printed full-color endpapers.
If you are a fan of the Exposé series (or any other Ballistic Publishing release, for that matter) this is a must-buy. If you're new to the series, it's a great place to start.
Flip through a preview of Exposé 9 on Ballistic Publishing's website (includes links for all three editions)
Buy Exposé 9 on Amazon.com (paperback or hardcover only)