Friday, November 18th, 2011

Posted by CG Channel Administration
Book review: Exotique 7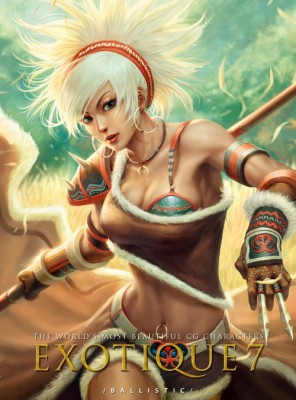 Ballistic Publishing's new collection of digital character art may be following an established pattern, but seven is still a lucky number, argues Fernando Caire.
If you love femme fatales or alternative pin-up art in general (and honestly, who doesn't?) Exotique 7 will be just for you. The latest in Ballistic Publishing's popular series of digital art books, Exotique 7 features over 358 illustrations from over 223 artists.
Though each book features brand-new art work, it's easy to see how some might think that the seventh of a series must just be 'more of the same'. I beg to differ. It's difficult to find a collection of artwork like this anywhere else, not only in terms of quantity, but in terms of quality.
The art, which is selected from hundreds of submissions, is phenomenal and divided into a broad range of categories, including pin up, sci-fi, portraiture, concept design and anime. I even found a Harley Quinn and a Power Girl in here too (a breath of fresh air to a comic-book reader like me).
Of course, not all the art work depicts beautiful women, but at least 99% of it is. Occasionally a male character will pop up, but the majority of the subjects are female – something I, for one, am not complaining about.
The book's exotic theme makes for some edgy and dynamic artwork, and it would be a challenge to find anything boring here. If I have one complaint, it is only that some really detailed and beautiful pieces are only given a small portion of a page. I understand that the editors are trying to fit in as much art as possible into one book, but many of them would have merited full-page prints in their own right.
208 pages of inspiration
However, at 208 pages of high-quality printing, Ballistic has spared no expense to make sure the art work is displayed as vibrantly as possible. The binding is strong and even though my review copy is a paperback, I doubt it will be falling apart anytime soon even after multiple reads.
These books not only serve as great references to other artists' styles but are a great source of inspiration as well. Seeing how much hard work went into every detail, it is difficult to not want to pick up your art supplies and get started on your own masterpiece. For $59, there is an overwhelming amount of art to see here, making Exotique 7 a must-buy for any digital artist – regardless of how many of its predecessors you own already.
View a preview of Exotique 7 or buy the book via Ballistic Publishing's website