Monday, November 15th, 2010

Posted by CG Channel Administration
Book review: Icons – The Art of Jim Lee
If you're a fan of the legendary comic-book artist's work, this compilation of his work for DC Comics and his own Wildstorm imprint will come as a personal love letter, says Fernando Caire. Just mind how you lift it.
As a young comic-book collector, I enjoyed the usual X-Men and Batman trade paperbacks, but during the mid 90s I discovered something new: Image Comics. Characters like Spawn and Wildcats – the latter distributed through Jim Lee's company Wildstorm Productions – had darker storylines and grittier styles than traditional Marvel or DC Comics fare. Not to say these were great, or even good, comics – but it was a sign that a significant change was coming.
This was my first exposure to the work of Jim Lee. His art set a new standard for the way comic books were drawn. I would later read the early work he did for Marvel, and eventually fall in love with Hush, which I consider one of the greatest Batman stories ever told.
So when Titan Books was kind enough to send me a copy of Icons: The DC Comics & Wildstorm Art of Jim Lee for review, I found it hard to believe they could pack all his art into one book. Boy, was I mistaken.
Packed to the brim
For a start, the thing is huge. I mean, you can hurt someone with it if you aren't careful. It's 296 pages long, and as a large-format hardback, it weighs in at four pounds.
Second, Titan made sure they took full advantage of the space, filling each page to the brim with art. The book is packed with sketches, inkings, paintings, and finished digital pieces. Written comments from Jim Lee are included too, but it is clear his art was to be the primary focus.
All his cover and interior designs are included from such hit titles as Hush, Infinite Crisis, Green Lantern and Superman: For Tomorrow. Then we are treated to his Wildstorm art, for which he sold the rights to DC when he left Image Comics.
I was never a huge fan of anything Image except Spawn, since most of their characters seemed like poorly drawn, unrealistically muscular rip-offs of Marvel heroes. But I always had a soft spot for his Wildstorm work. The art here is nothing less than phenomenal, and it is a shame that DC, among other dramatic changes in the company, will be closing Wildstorm comics by December this year.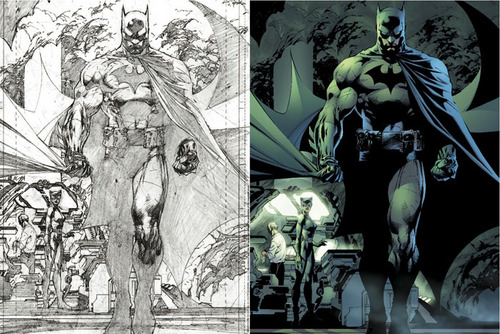 Also included is (groans) artwork from the All Star Batman and Robin the Boy Wonder series. DC launched an All Star series for each hero that would pair up the industry's top writers with equally successful artists. When they announced Jim Lee and Frank Miller working hand in hand on a Batman series that would take place in Frank Miller's Year One and The Dark Knight Returns universe, no words could describe the excitement I felt.
No words could also describe the mixed feelings of awe and horror I felt when actually reading it for the first time. Frank Miller had reduced the legendary icon to an over-the-top kidnapping psychopath who loves destroying cop cars and traumatizing a young boy only hours after his parents had been killed. Oh, and then forcing him to survive off rats in a cave.
In short, Frank Miller wrote a terribly insulting comic – but Jim Lee made it look like gold. When you can take something so ugly at its core and make it look beautiful, that takes skill. If there is any redeeming quality to these comic-book monstrosities, Jim Lee's art is it. The artwork from the All Star Batman and Robin series is dynamic, detailed and downright awesome. Thankfully, Frank Miller's obscene dialogue is not included here.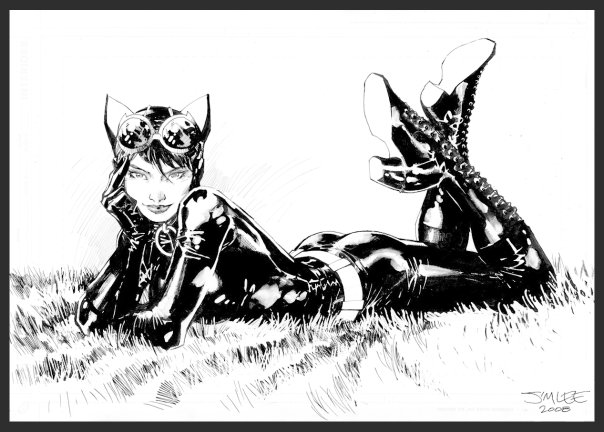 But to my surprise there is more than just comic-book art here. The book also includes toy designs Lee did for DC's action figure company, DC Direct. (If you have seen any of DC's more recent films, he also helped design the new logo, as well as the new opening sequence.)
Lastly, he has been hard at work as the Executive Creative Director on the highly anticipated MMORPG DC Universe online. Lee has multiple projects outside his usual comic-book work that have greatly boosted public awareness of the wider DC Entertainment brand, and getting a glimpse at the artwork for these is a real treat.
The only downside is that Jim Lee's early Marvel art is not present. I don't know if Titan wanted to stick strictly to his DC portfolio now that he has been promoted to Co-Publisher, but I would have loved to see his earlier Punisher and X-Men drawings: something that would have formed the icing on the cake for an already wonderful collection of art.
If you are a fan of Jim Lee, this book was published as a love letter to you. If not, buy it anyway. Icons offers an in-depth look at the working process of a modern master, and features some of the most beautiful art ever created of some of comics' most iconic superheroes.
Icons: The DC Comics & Wildstorm Art of Jim Lee is published by Titan Books, price $39.95 (£24.99)