Thursday, November 4th, 2010

Posted by CG Channel Administration
Book review: Framed Ink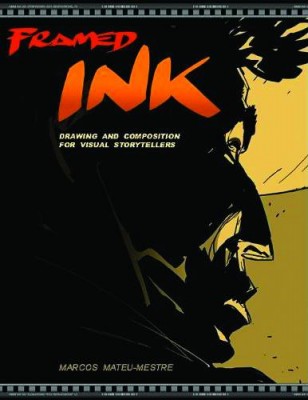 This guide to visual storytelling would work purely as eye candy, says Fernando Caire. But animation veteran Marcos Mateu-Mestre's images also convey a wealth of practical advice.
I believe that one of the most challenging tasks for any artist, be they an animator, painter or graphic novelist, is composition. I'm not just talking about setting the image up to guide the eye correctly, either, but also telling a good narrative and setting the right mood through imagery alone. No matter how compelling the characters look, if they are not composed correctly, the piece will fail.
Design Studio Press's new book Framed Ink, written by 20-year animation veteran Marcos Mateu-Mestre, serves as a guide to visual storytelling for artists of any skill level and, best of all, any profession. The knowledge he shares will help fix dramatic poses, lighting, and provides tips on how to communicate feelings and moods through drawing.
Not only does Mateu-Mestre include diagrams to effectively communicate all the ways you can improve your composition, but the in-depth lessons are accompanied by over 230 amazing illustrations. Sometimes the same image is displayed with different lighting or angles to show how much of a dramatic difference it causes. Even showing the significance of the posture and silhouette in your character designs, he covers all the bases in what I must say is on of the best books on composition I have ever read.
This is what I love about this book: even though the words are helpful and inspiring, Mateu-Mestre easily communicates his points through the imagery. The $24.95 price tag would be worth the detailed art alone, so consider the vast amount of tips he shares as icing on the cake.
No matter which field of art you work in, Framed Ink is a must buy. Marcos Mateu-Mestre is a master of his craft and it shows on every single page of the book. Whether you are a master or a novice, an animator or a concept designer, this book reveals exactly what is essential in making a composition work.
Framed Ink: Drawing and Composition for Visual Storytellers is available now from Design Studio Press.
The book costs $24.95 in the US. It will be released in the UK next February.
View a slideshow of images from the book