Thursday, January 10th, 2013

Posted by CG Channel Administration
Book review: Massive Black: Volume 2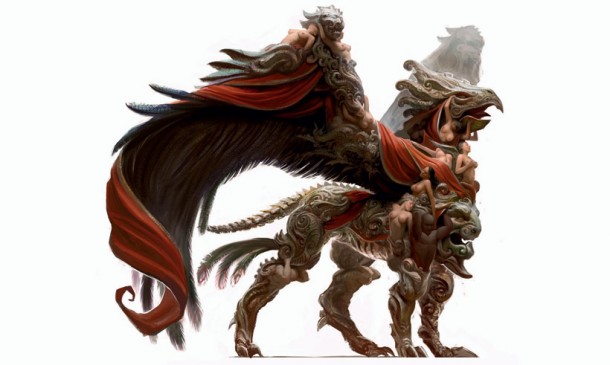 The content may be a bit character-heavy for some readers, but Ballistic Publishing's second collection of Massive Black's commercial concept work is a joy to browse, says Fernando Caire. But why on earth is the cover white?
Art studio for hire Massive Black has worked on projects ranging from videogames to ads, and even starred in its very own book. Now Ballistic Publishing has released a sequel, collecting the last four years of the studio's work.
So why is it white?
The 200-plus-page softcover book comes in an attractive white slipcase which will, unfortunately, get dirty way too easily. I kind of wish they'd stuck with the more obvious black.
But besides its cosmetic issues, Massive Black: Volume 2 is a fantastic collection of concept art. You won't have heard of many of the projects, but it doesn't matter: the most interesting work is from ones that never made it all the way through production, where you get a glimpse of what might have been.
The book is broken up into four chapters: Games, Movies, Advertising and MB Entertainment. Though there are quite a few prop, vehicle and environment designs, the content is very character design driven – not a problem for me, although others might want more variety.
From infamy to superheroes
The games section is by far my favorite. Being a huge fan of the PlayStation 3 exclusive Infamous, seeing the concept art for it is a real treat. Many of these designs did not make it into the final game – which is unfortunate, because a lot of them are much more interesting than the final result. Other games whose design work features in this section include Starhawk, Red Faction: Armageddon, Risen 2: Dark Waters, Silent Hill: Shattered Memories and Ace Combat: Assault Horizon.
The movies section covers designs made for G.I. Joe: The Rise of Cobra, Transformers 2 and 3 and Thor. My opinion of these movies aside (Michael Bay hurts my childhood) the design work is very solid. In fact, I would argue that it promised much better films than the ones that ultimately arrived in theaters. The sharp look that Transformers has becomes known for makes for some very impressive robot designs, and seeing the more experimental ideas Massive Black had for Thor's silver screen look is a real treat.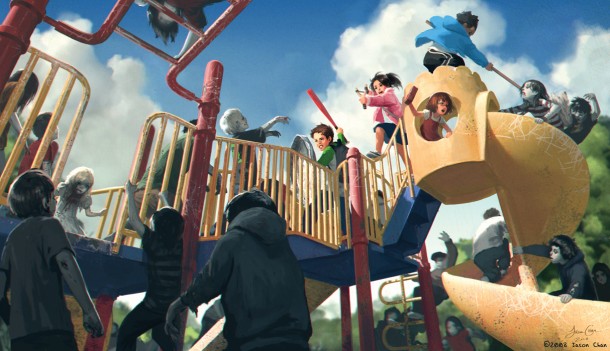 The book finishes off with the advertising and MB Entertainment sections. The advertisement designs are interesting enough and mainly include environments and some basic characters, ranging from CG ants to an alligator in a business suit. The best part of this section has to be the concepts for a 2011 Super Bowl commercial which includes two orc armies and a dragon. What this has to do with Coca-Cola, I have no idea, but it looks great.
MB Entertainment is Massive Black's venture into creating its own IP, and the highlight of its section of the book is Zombie Playground, its soon-to-be-released online RPG. A successful Kickstarter campaign launched the game into full production last year, and after looking at Jason Chan's concept art, I am kicking myself for missing the opportunity to contribute. With zombies of all shapes and sizes, as well as some very creative character class designs, this runs a close second for my favorite chapter of the book.
Never mind the scuff marks: check out the content
Though it will get dirty very fast, the content of Massive Black: Volume 2 is phenomenal and reflects the quality of the work the studio has delivered on its numerous projects. Reading the thought process of the artists behind each individual design gives further insight into the production process, and you can't help but be inspired by the time you reach the end. If you are looking for a character-design-heavy art book, look no further.
Massive Black: Volume 2 is available now from Ballistic Publishing. The softcover edition of the book has a MSRP of $65; the special leatherbound edition, $129; and the Folio edition, $300.
View an interactive preview of the book on Ballistic Publishing's website
(Includes links to purchase all three editions.)