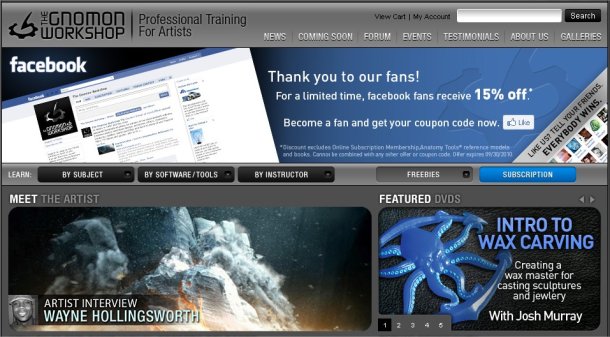 The Gnomon Workshop is offering a 15% discount on its training for anyone who signs up as a fan on Facebook.
The offer is open until next Thursday, 30 September, and can be accessed by clicking the banner on The Gnomon Workshop homepage.
Online subscriptions, books and reference models are excluded, but that still leaves a library of hundreds of the finest digital art training DVDs and downloads in the known universe.*
Current titles range from guides to photorealistic texture work and Maya Fluid Effects to wax carving and sculpting wrinkles. Visit the site and check them out today.
Click here to claim The Gnomon Workshop Facebook offer (click on banner at top of page)
*Disclaimer: CG Channel is owned by The Gnomon Workshop. But it's still true.
Tags: 3D training, CG training, cheap, digital art, discount, Gnomon Workshop, training DVD