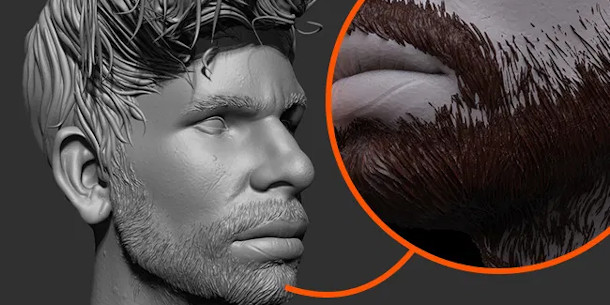 Concept artist Pablo Munoz Gomez has released a neat 20-minute video tutorial on sculpting hair in ZBrush, complete with three free downloadable ZBrush hair brushes.
The tutorial itself covers the process of sculpting a beard, but the techniques – and accompanying brushes – can be used for any kind of sculpted hair geometry intended to be baked into normal maps.
Three brushes are available: one for standard hair, one for long hair, and one for fur.
Availability and system requirements
Pablo Munoz Gomez's custom hair brushes are available free in ZBP format for ZBrush 2020.1.1.
Download Pablo Munoz Gomez's free custom hair brushes and watch the accompanying video tutorial
Tags: Concept Art, custom brush, digital sculpting, download, free, fur, hair, Pablander, Pablo Munoz Gomez, sculpting hair, system requirements, ZBP, ZBrush, ZBrush brushes