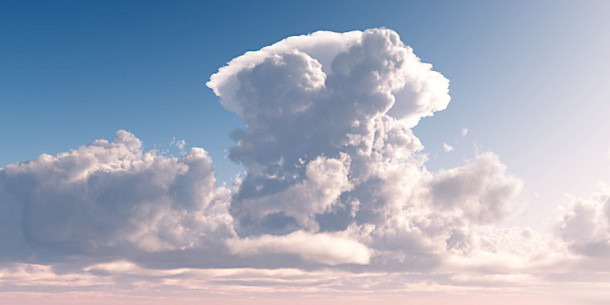 An image created using CloudFactory Ozone by Dick Scherzinger. Developer e-on software has announced that it is discontinuing the cloud-creation plugin and sister tool Carbon Scatter after the 2017 releases.

e-on software is to discontinue Carbon Scatter and CloudFactory Ozone, its scattering and atmosphere-creation plugins for DCC applications including 3ds Max, Cinema 4D and Maya.
The latest versions, Carbon Scatter 2017 and CloudFactory Ozone 2017, both of which were "pre-released" yesterday, will be the last, though product support will continue into 2018.
Dropped to enable e-on to focus on Vue and PlantFactory
According to e-on, the decision will enable the company to "focus on [its] core technologies, and ensure better customer support and user experience on its flagship solutions Vue and PlantFactory".
That may be a reflection of the fact that there was an 18-month break between major releases of both the Vue products and PlantFactory following e-on's acquisition by Bentley Systems in 2015.
Neither Carbon Scatter nor CloudFactory Ozone got a new release during that period, either: before the 2017 editions, the latest versions were Carbon Scatter 2015.5, and CloudFactory Ozone 2015.
New features in Carbon Scatter 2017 and CloudFactory Ozone 2017
While e-on should get marks for its transparency in announcing the news before Carbon Scatter 2017 and CloudFactory Ozone 2017 went on sale, there doesn't actually seem to be a lot in either update.
According to e-on's press release, Carbon Scatter 2017 adds support for multiple layers in the EcoPainter instance-painting tool, better integration with Vue and PlantFactory, and smaller scene files:
Multiple Global EcoSystem Layers, that can be saved as EcoPainter Brushes
Add PlantFactory and VUE vegetation models (.tpf and .veg) directly to Carbon Scatter EcoSystem populations
Performance: Up to 4x lighter data footprint within saved scenes, and quicker loading/saving of scenes
CloudFactory Ozone 2017 gets a cloud auto-scaling system, plus a few workflow improvements:
Auto-scale clouds with altitude
Easily load/add cloud layers using a single button
Optional automatic sun softness computation, based on atmosphere parameters
"Improve Low Quality Consistency" parameter to better preview your atmosphere looks while rendering at a lower resolution
Both are currently available to buy as "pre-releases" – the official versions aren't due until Q3 this year. Anyone with a valid maintenance plan for either product on 1 June 2017 will get the relevant pre-release free.
Pricing and availability
The pre-release of Carbon Scatter 2017 runs on 64-bit Windows 7+ and OS X 10.7+. A new licence costs $295 and can be used across all compatible versions of 3ds Max, Cinema 4D and Maya on your system.
The pre-release of CloudFactory Ozone 2017 also runs on 64-bit Windows 7+ and OS X 10.7+, costs $295, and can be used across all compatible versions of 3ds Max, Cinema 4D, LightWave, Maya and Softimage.
According to e-on, it will provide buyers of both products hotfixes, service packs and "wherever possible" support for newer host applications until September 2018. Existing maintenance plans for both plugins will also be honoured, although it is now no longer possible to extend maintenance.

Read about e-on software's decision to discontinue Carbon Scatter and CloudFactory Ozone
Read about Carbon Scatter 2017 on the product website
Read about CloudFactory Ozone 2017 on the product website
Tags: 3ds max, atmosphere, Carbon Scatter, Carbon Scatter 2017, Cinema 4D, cloud, CloudFactory Ozone, CloudFactory Ozone 2017, discontinued, e-on, e-on software, final release, final version, instancing, LightWave, Maya, new features, Ozone, plugin, price, scattering, softimage