Golaem has released Golaem 6, the latest update to its crowd animation system for Maya, adding new workflows for creating custom character AI and editing animation transitions.
The update also introduces new readymade behaviours for emitting characters into a scene, or removing them once out of view; and for simulating traffic as well as organic characters.
Golaem Layout, the cut-down edition of the software intended for editing existing simulations, has also been extended, adding new options for editing trajectories and scattering props or characters.
An intuitive crowd animation tool making use of standard Maya workflows
Since its launch in 2011, Golaem has been adopted by many of the key facilities in the VFX industry, recently seeing use in Blur Studio's trailer for Halo Wars 2.
The software was developed with the aim of providing a more intutive workflow than traditional simulation tools, with users able to use Maya's native toolsets, like particles and fields, to control crowd behaviour.
Golaem now includes toolsets for building custom AI logic, generating automatic variations of crowd characters, and interactively previewing and editing simulations.
Output is natively compatible with RenderMan, 3Delight, Arnold, V-Ray, Mental Ray, Redshift and Guerilla Render; and users can also output to 3ds Max and V-Ray or Softimage and Arnold for rendering.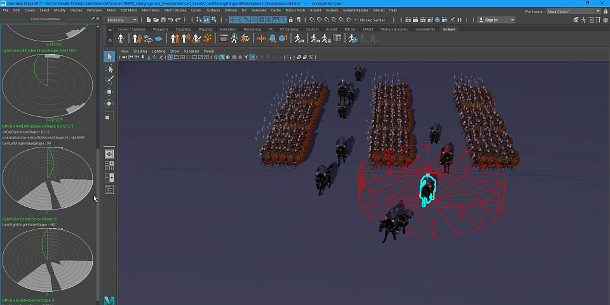 New in Golaem 6: new channel operator system for creating custom AI, new perception system
To that, Golaem 6 adds a new set of Channel Operators: around 100 low-level building blocks that can be wired together in a node graph to generate custom character AI in a similar way to tools like Massive.
A new perception system (shown above) controls when crowd actors become aware of other characters or obstacles, with the option to use standard Maya geometry to represent their field of awareness.
There is also a new Transition panel for customising characters' transitions between animation states, with a standard timeline interface for adjusting timing.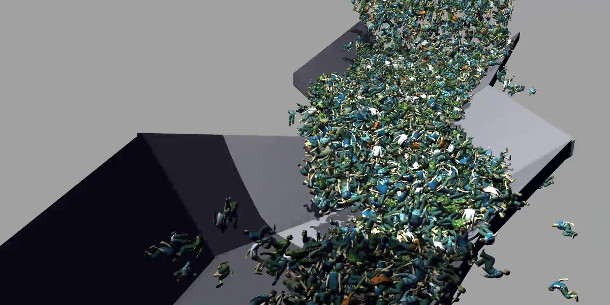 New readymade emit, kill and traffic behaviours
Other changes include new behaviours for emitting characters from Golaem's placement tools (shown to spectacular effect above) or from each another – for example, for shooting arrows from a crowd of archers.
A separate Kill behaviour removes characters from a sim once out of sight, speeding up calculation.
In addition, there is a new Traffic behaviour – which, as its name suggests, provides readymade controls for making a crowd entity behave like a vehicle rather than an organic character.
New in both Golaem and Golaem Layout: new trajectory editing and scattering options
Golaem Layout, the cut-down edition of the software for editing existing simulation data, also gets an update.
First introduced in Golaem 5, Layout enables users to move or delete crowd characters without needing to re-run a simulation, offset or retime their animation, and edit props and clothing.
To that, Golaem 6 adds a new Trajectory Edit mode for tweaking characters' movements manually; and the option to snap objects or characters to Golaem's placement tools, making it easier scatter them in a scene.
The new tools are also present in the full version of the software.
Pricing and availability
Golaem 6.0 is available now for Maya 2014 and above, running on 64-bit Windows XP+ or Linux.
A new perpetual lience of the full software costs $9,000, while Golaem Layout costs $1,800, and there is also a range of rental options. You can see a comparison table of the two editions here.
Read a full list of new features in Golaem 6.0 on Golaem's blog
Tags: 3Delight, AI, animation transitions, Arnold, behavior, channel operators, crowd animation, crowd simulation, edit existing simulation, emit, Golaem, Golaem 6, Golaem Layout, Guerilla Render, kill, Maya, new features, node graph, node-based, price, Redshift, RenderMan, retime existing simulation, scattering, traffic, trajectory editing, Transition panel, V-Ray