Friday, February 3rd, 2023

Posted by Jim Thacker
Sneak peek: RTX ray tracing in Substance 3D Modeler
Adobe's February 2023 livestream on new features in its Substance 3D tools. The section on upcoming features in Substance 3D Modeler, including real-time ray tracing in the viewport, starts at 00:13:00.

Adobe has provided a sneak peek of upcoming features in Substance 3D Modeler, its VR sculpting app.
The new features, shown during a livestream yesterday, include GPU-accelerated ray traced lighting in the viewport, GPU-accelerated sculpting, CAD model import, and better mesh decimation.
GPU-accelerated ray traced lighting now in closed beta on desktop
Although Adobe often shows tools in development during its Substance 3D livestreams, yesterday's session focused mainly on recent releases, including Substance 3D Sampler 4.0 and Substance 3D Stager 2.0.
The exception was a brief sneak peek at upcoming features in Substance 3D Modeler, the firm's new desktop and virtual reality sculpting software, which was released late last year.
Of those, the only one shown with an image was hardware-accelerated ray tracing, intended to improve the quality of lighting in the Substance 3D Modeler viewport.
Substance 3D product director Jérémie Noguer described the feature as "RTX ray tracing" and commented that "fully ray traced lighting while you're sculpting inside Modeler on desktop [is] pretty amazing".
Noguer didn't say whether ray tracing would also be available while sculpting in VR, or if it would require a Nvidia RTX GPU: in other Substance 3D tools, ray tracing is now supported on other manufacturers' GPUs.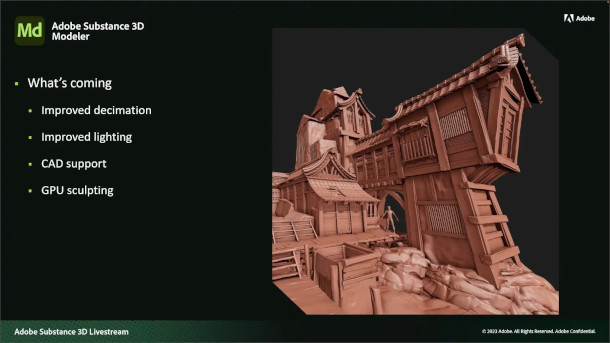 Other upcoming features mentioned in the livestream include GPU acceleration for the sculpting tools themselves, the option to import CAD models, and better mesh decimation.
While Substance 3D Modeler does currently have basic options to set the polygon count of exported models, the new decimation tools were described as "on par with the best you can find on the market today".
Release dates, price and system requirements
Adobe hasn't announced a release date for the new features previewed in the livestream.
The current stable release, Substance 3D Modeler 1.1, is available for Windows 10 only. It is rental-only, and is available through Adobe's Substance 3D Collection subscriptions, which cost $49.99/month or $549.88/year.