Friday, August 5th, 2022

Posted by Jim Thacker
KeenTools ships FaceBuilder 2022.2 for Blender and Nuke

Plugin developer KeenTools has released FaceBuilder 2022.2, the latest version of its popular automated head-generation plugin for Blender and Nuke.
The update adds a new texture layout compatible with MetaHumans, Epic Games' next-gen Unreal Engine game characters, which KeenTools promises will let users "create MetaHumans from photos".
It was released as part of KeenTools 2022.2, the latest version of KeenTools' entire suite of plugins, which also includes Nuke tracking add-ons FaceTracker and GeoTracker.
Create accurate 3D reconstructions of live actors from source photos inside Nuke and Blender
Originally released for Nuke in 2018, and later ported to Blender, FaceBuilder promises to achieve the kind of results that would normally only be possible with photogrammetry software or 3D scans.
Users begin by importing photos of an actor, and adjusting parameters like focal length and aperture on a readymade virtual camera to match the source images.
By placing pins in the viewport, they can then adjust the default facial geometry the plugin generates to match that of live actor. FaceBuilder projects textures from the source photos onto the final 3D geometry.
FaceBuilder 2022.2: create MetaHumans from photos
The main change in FaceBuilder 2022.2 is that the software can now generate texture maps in the UV layout format used by MetaHumans, Epic Games' next-gen 3D game characters for Unreal Engine.
When used in conjunction with Epic's free 'mesh to MetaHuman' plugin, KeenTools says that it can be used to "create MetaHumans from photos".
Users can load a source photo of an actor into FaceBuilder, generate a 3D head model, export it to Unreal Engine, then generate a MetaHuman with facial geometry and skin textures matching the actor.
Hair and clothing can be added by editing the character in Epic Games' free MetaHuman Creator software.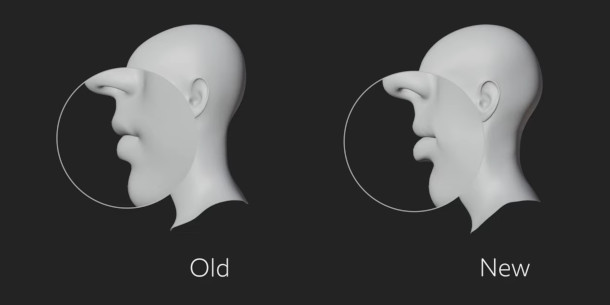 Recreate facial details like eye, nose and lip corners more accurately
In addition, FaceBuilder's pinning system has been updated so that dragging pins affects nearby regions of the mesh "in a smart way", leaving unrelated parts of the face unaffected.
KeenTools says that the change makes it easier to recreate finer details like eyelid folds and lip corners more accurately: you can see side-by-side comparisons in the video at the top of the story.
The previous update to the software, KeenTools 2022.1, also added native Apple Silicon support to KeenTools for Blender, which should improve performance on Macs with new M1 and M2 processors.
Pricing and system requirements
FaceBuilder 2022.2 is available for Blender 2.80+ and Nuke 12.0+ on Windows, Linux and macOS.
The software is rental-only, and costs $149/year for a node-locked Personal licence, $299 for a node-locked Commercial licence, or $399/year for a Floating licence.
The other KeenTools 2022.2 plugins are available for Nuke 12.0 only. Find pricing here.

Read an overview of the new features in FaceBuilder 2022.2 on the company's blog
Read a full changelog for FaceBuilder and KeenTools
Read KeenTools' guide to creating MetaHumans from photos using FaceBuilder