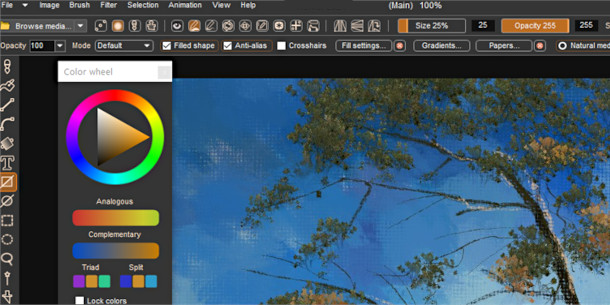 The developers of hard-to-classify digital painting, animation and video processing tool Howler have made a full recent version of the app available to download for free.
Anyone downloading Howler 2020, which was originally released last year, is encouraged to donate to raise funds for future development of the software.
An idiosyncratic low-cost natural media paint package with a lot of unexpected features
Originally released two decades ago, Howler – originally Project Dogwaffle – is an idiosyncratic sub-$100 digital painting and content creation tool.
Its core strength is natural media painting, but it throws in a number of unexpected feature sets, ranging from terrain generation and particle sculpting to video repair and rotoscoping.
You can see the features added in Howler 2020 itself in this story.
Pricing and availability
Howler 2020 is available free for Windows only. Anyone downloading it is encouraged to make a donation to fund future development of the software.
The latest release, Howler 2022.1, has an MSRP of $76.99.

Download digital painting and video processing software Howler 2020 for free
Tags: animation, Concept Art, digital painting, download, free, greenscreen, Howler, Howler 2020, illustration, image edting, natural media, Project Dogwaffle, rotoscoping, system requirements, terrain generation, vfx, video processing, video repari, visual effects