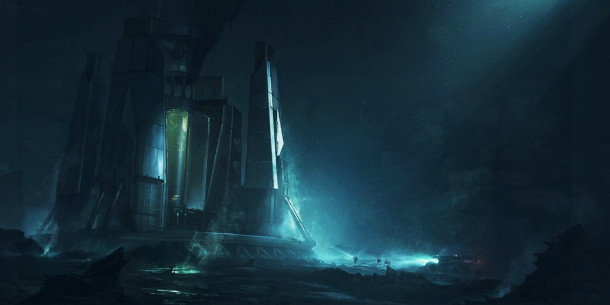 The Gnomon Workshop has released Creating Sci-Fi Keyframe Concept Art: a guide to creating compelling key frames for games or movies, recorded by concept artist Sebastien Hue.
The workshop, which comprises five and a half hours of video training, uses Cinema 4D and Photoshop, although the same techniques can be applied to any 3D software.
An intermediate-level overview of real concept art workflows for games and movies
In the workshop, Hue explores how to create keyframe images with the speed and degree of realism required by modern videogame and movie production schedules.
The videos set out his own workflow, from developing and initial idea to rendering the final image, with a focus on how 3D software can be used alongside Photoshop to speed up the design process.
The workshop also covers key principles of composition, depth, mood, lighting and industrial design.
The Gnomon Workshop describes it as taking an "intermediate-level approach with … a focus on artistic exploration", so it requires a working knowledge of Photoshop.
About the artist
Sebastien Hue is a freelance concept illustrator whose clients include Amazon Games, EA, Paizo, HarperCollins, Adobe and Ferrari, and whose games credits include Call of Duty: Infinite Warfare.
He started out as a self-taught artist in 2007 using Photoshop to design logos, before channelling his industrial background into his passion for digital art and a love for science fiction.
Pricing and availability
Creating Sci-Fi Keyframe Concept Art is available via an online subscription to The Gnomon Workshop. Subscriptions cost $49/month or $490/year. You can try the training for free.
Read more about Creating Sci-Fi Keyframe Concept Art on The Gnomon Workshop's website

Full disclosure: CG Channel is owned by Gnomon.
Tags: animation, Cinema 4D, composition, Concept Art, concept illustration, Creating Sci-Fi Keyframe Concept Art, game development, Gnomon, industrial design, key frame, lighting, Photoshop, Sebastien Hue, style frame, The Gnomon Workshop, Training, tutorial, video, visual effects, workflow, workshop