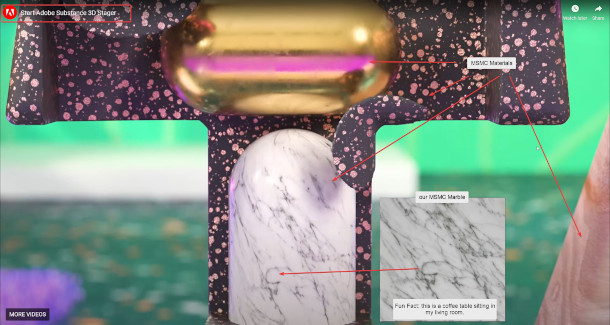 A still from the intro sequence to Adobe's promotional videos for the new Substance 3D Collection, annotated by Greyscalegorilla's Chad Ashley to show uncredited use of his firm's stock materials.

Adobe has apologised to two well-known content creators within the CG community over uncredited use of their assets within the firm's marketing videos for its new Substance 3D Collection.
Greyscalegorilla creative director Chad Ashley and HDRI Haven director Greg Zaal both took to Twitter after last week's product launch to point out that stock assets from their sites had been used in the promos in ways that implied that they had been created using Adobe's software.
Adobe described the incidents as "unfortunate mistakes", attributing them to the marketing agency that created the videos, and said that it would be creating new versions.

The mystery of the marble material
The launch of the Substance 3D Collection was a significant moment in the evolution of the Substance product suite, which Adobe acquired in 2019, along with original developer Allegorithmic.
The existing material-authoring tools got new logos and new names – particularly Substance Alchemist, which became Substance 3D Sampler – and subscriptions were switched over to Adobe's Creative Cloud.
But another key part of the launch was the introduction of new products like Substance 3D Stager, a beginner-friendly scene layout and rendering tool aimed at the 'virtual photography' market.
However, as Greyscalegorilla creative director Chad Ashley pointed out, several of the assets used in the promo video for the software are actually from Greyscalegorilla's Modern Surface Material Collection.
I don't know if I'm flattered or pissed that @Adobe @Substance3D used @GSG3D materials and assets to sell THEIR own suite of materials and assets.

I'm leaning towards😡

Original Video: https://t.co/Pty88U8vHQ

Get Plus & the MSMC materials here: https://t.co/cwjsRk6vyx pic.twitter.com/XTppXeDVHw

— cgpov.eth | Chad Ashley (@cgpov) June 23, 2021

In a follow-up tweet, Ashley added: "For the record, the marble coffee table in my living room that created the marble material used here is NOT part of the Creative Cloud. … It already has a job."
Adobe's Substance 3D account quickly replied, commenting that "you have all the reason to be angry".
In a further tweet, Adobe said that the marketing agency that created the video had indeed bought Greyscalegorilla's asset pack, describing its use in the promo as "a mistake".
"We are investigating and will take decisions that will imply retakes," the tweet added.
The curious case of the tripod in the HDRI
While the slip-up with the Substance 3D Stager promo is unfortunate, Stager is at least a tool intended for use with stock materials.
As part of Adobe's drive to make 3D "accessible to new … enthusiasts", the software enables users to drag and drop readymade materials into their scenes, rather than having to create them from scratch.
Adobe would probably prefer that they came from its own Substance 3D Asset Library – which, at the time of writing, includes 650 marble materials – not third-party collections, but the result is pretty much the same.
More significant is Adobe's promo video for Substance 3D Sampler, which features the new HDRI tools introduced in version 3.0 of the software.

The clip above shows a tripod being removed from a 360-degree image, and implies that the work has been done in Sampler.
However, as HDRI Haven founder Greg Zaal pointed out, the image shown is a HDRI Haven asset, and never originally contained a tripod.
https://t.co/ps2AAAr3Eu Neat tool, but beware false marketing. They show automatic removal of tripod from an HDRI, but this is one of mine that has no tripod already. The "perfect result" they show is not the tool output at all, it's the original. Don't trust any of these results

— Greg Zaal (@GregZaal) June 23, 2021

Adobe posted in the YouTube comments for the video to "apologize for this mistake", saying that it would "look into it … with the agency that created the video".
Principal product manager Jérémie Noguer later posted on the BlenderArtists.org forum that agency in charge of creating the videos had "sub-contracted some shots to a freelance who used 3rd party content rather than ours, and we unfortunately didn't notice the mistake in the midst of crazy deadlines".
Noguer said that Adobe had "apologised to the creators [and is] re-rendering new replacement videos".
An embarrassing coda to a major product launch
While the mistakes are embarrassing for Adobe, they don't necessarily reflect on the tools themselves.
We haven't seen anyone suggesting that you can't remove a tripod from an image in Substance 3D Sampler; just that that isn't what is actually shown in the promo video.
But for some artists, the incidents embody a sense of discontentment with what they feel is Adobe's move away from the Substance tools' original core audience of specialist games and VFX professionals in an attempt to reach a wider range of users.
As one BlenderArtists.org user put it in reply to Jérémie Noguer: "I get that such face-palming 'mistakes' can happen … [but] with the artist[s] you have on hand, why not keep it in-house, the way it used to be?"
"I would think this kind of mistake would have never happened when you guys [the Allegorithmic team] were independent and kept to your core audience."

Read our other coverage of last week's launch of the Substance 3D Collection
Tags: Adobe, Allegorithmic, apology, Chad Ashley, Greg Zaal, Greyscalegorilla, HDRI Haven, Jérémie Noguer, launch video, marketing video, mistake, promo video, Substance 3D Collection, Substance 3D Designer, Substance 3D Painter, Substance 3D Sampler, Substance 3D Stager, Substance Alchemist, tripod removal, uncredited use of assets in marketing video