Monday, May 10th, 2021

Posted by Jim Thacker
Ubisoft releases free Blender collaboration tool Mixer 1.0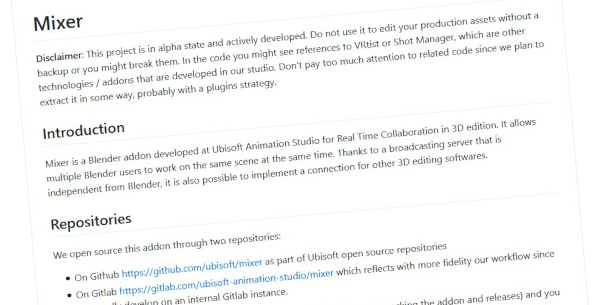 Orignally posted on 5 August 2020. Scroll down for news of the 1.0 release.
Ubisoft has made Mixer, its in-house real-time collaboration system for Blender, available open-source.
The add-on enables multiple Blender users to work on the same scene in real time – and even, in future, for users of other DCC applications to make edits to the assets.
Collaborate on Blender production scenes in real time over an IP connection
Ubisoft has been working on Blender tools since the firm adopted the software as its main DCC application for broadcast animation work last year.
Mixer, which enables multiple Blender users to collaborate on the same production scene in real time, is the first to get a public release.
It enables studios to set up a 'broadcasting server' to which the scene data is uploaded, and to which individual users can connect via IP.
Users can then create 'rooms' – individual collaborative projects – on the server.
By default, the content of a room is deleted once all of its participants leave, unless saved manually, but users can choose to have rooms remain open even when no users are present.
According to Ubisoft, since the broadcasting server is independent of Blender, "it is also possible to implement a connection for other 3D editing software".

Updated 10 May 2021: Ubisoft has released Mixer 1.0, the official stable release of the add-on.
The update adds support for synchronising updates to Blender Armatures and geometry node trees between the users collaborating on a scene.
It is also now possible to ignore the scene camera during synchronisation.
You can see a full list of Blender features currently supported in the new online documentation. Key features not yet supported include particles and volumes.
System requirements and availability
Mixer is available for the current release of Blender under a GPL v2 licence.

Read more about Mixer in Ubisoft's GitHub repository
Download compiled binaries of free Blender real-time collaboration add-on Mixer

Updated 6 August 2020: PhD student Swann Martinez is working on Multi-user, a similar Blender collaboration add-on in use at 3D animation and VFX studio Cube Creative.
The project is being updated regularly – version 0.0.3 came out last week – and is available under a GPL v3 licence. Read the project thread on BlenderArtists.org here and find the source code here.