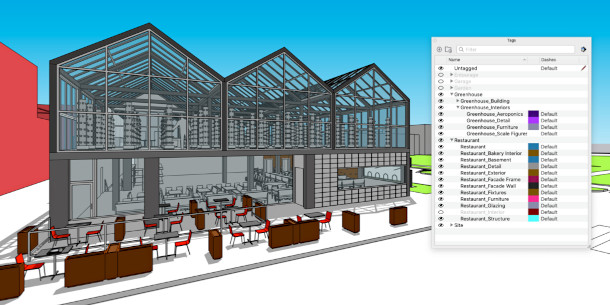 Trimble has released SketchUp 2021.0.1, the latest version of its architectural modelling software.
The update itself is a bugfix release, but since we didn't manage to cover SketchUp 2021.0 when it came out last November, this seems a good opportunity to run through the new features of SketchUp 2021 in general.
Changes in 2021.0 include the option to filter tags in scenes, or organise them into folders, making it possibility to toggle the visibility of entire sets of objects within a scene.
The release also introduced Live Components, an experimental new online library of parametric objects, and PreDesign, a new online system for tailoring building designs to the local climate.
New release schedule, new rental-only pricing, and new logo
The nine-month gap between SketchUp 2021.0 and its predecessor, SketchUp 2020.0, was the shortest between big releases in recent history, returning SketchUp to its old annual-update-in-November schedule.
It was also the first new version of the software to be available rental-only, following Trimble's decision to discontinue perpetual licences last summer.
Trimble marked the changes with a new logo design, including new application icons for SketchUp, LayOut, its companion tool for converting 3D models into 2D documentation, and its related online services.
Scene tags can now be grouped into folders to manage object visibility
New features in the desktop edition of the software, available with Pro and Studio subscriptions, include the option to group tags – Sketchup's object visibility system, previously known as layers – into Tag Folders
The change makes it possible to toggle the visibility of entire groups of objects in a scene in one go, both in SketchUp itself and in LayOut.
In addition, SketchUp's Tags panel now supports filtering, making it quicker to locate individual tags.
Pro and Studio subscriptions give access to new online 'architectural research tool' PreDesign
Pro and Studio subscribers also get access to PreDesign, a new online service intended to help architects design buildings in the context of their local climate.
It pulls in real-world weather information for a geographical location and suggests "appropriate architectural responses", rating alternative glazing and shading designs for the local sun conditions.

Experimental new Live Components system lets users adjust readymade scene objects interactively
Also outside the core application, SketchUp 2021.0 introduced Live Components, a new system of "parametric objects that re-draw themselves in real time" for populating 3D scenes.
The components, which include doors, windows, stairs, furniture and home furnishings, are downloadable from 3D Warehouse, Trimble's online library of SketchUp content.
Unlike traditional Dynamic Components, they can be adjusted interactively inside a scene, with the user dragging control sliders and the component resizing dynamically in the viewport.
In addition, unlike Dynamic Components, Live Components are supported by the web edition of SketchUp: the only version available to users with SketchUp Shop subscriptions.
The system is still officially in beta, and is available through Trimble's new SketchUp Labs program.
Users praise speed of update, but call for overhaul of LayOut
User reactions to SketchUp 2021.0 were more positive than with many recent versions of the software, with comments on the product forum praising the rapid release schedule.
Aspects of the update criticised in the announcement thread include the relative lack of changes to LayOut, with users calling for better UX and export capabilities.
Pricing and system requirements
SketchUp 2021.0.1 is available for Windows 10 and macOS 10.14+ on a rental-only basis.
Subscriptions cost $119/year for SketchUp Shop, $299/year for SketchUp Pro, and $1,199/year for SketchUp Studio. See a feature comparison table for the three subscription plans here.
There is also a free, feature-limited web-based edition of SketchUp, SketchUp Free.

Read an overview of the new features in SketchUp 2021.0 on Trimble's blog
Read a full list of new features in the online changelog
Tags: 3D Warehouse, arch viz, architectural design, architectural modeling, architectural visualization, climate-appropriate design, LayOut, Live Components, new features, object visibility, PreDesign, price, rental-only, SketchUp 2020.0, SketchUp 2021, SketchUp 2021.0, SketchUp 2021.0.1, SketchUp Free, SketchUp Labs, SketchUp Pro, SketchUp Shop, SketchUp Studio, subscription only, system requirements, tag filtering, tag folders, tags, Trimble