Sunday, January 10th, 2021

Posted by Jim Thacker
Download over 70 free 16K HDRIs for commercial use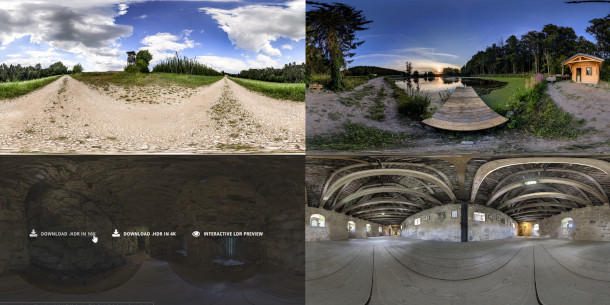 Games artist Elvis Posa has made over 70 high-resolution HDRIs of interior and exterior environments available via his website, iHDRI.com.
The files are available to download as 32-bit .hdr files at 4,096 x 2,048px and 16,384 x 8,192px resolution, and are licensed for use in commercial projects.
A range of interior and exterior 16K HDRIs, available via a nicely presented website
iHDRI.com features a good range of HDRI environments, including both indoor and outdoor scenes: to judge from the file names, mainly captured in Bavaria and the Balkans.
The exteriors include natural and urban environments, shot at a variety of times of day, while the interiors include both apartments and public spaces like stairwells and underground car parks.
The HDRIs aren't grouped into categories or tagged by content type, but the library is small enough to browse visually, and neatly, each one comes with an interactive 360-degree LDR preview.
The exposure range is comparatively low – seven photos per angle, with an "exposure value distance of two or more", so a minimum total of 12 EVs – but all are available at 16K resolution.
Licence conditions
iHDRI.com's HDRIs are available free for use in commercial projects. The files themselves are housed on Google Drive, and don't require you to register to download them.
If you like the assets, you can back the project on Patreon: if you pledge $6 or more, you get direct access to Google Drive, making it possible to download all of the files in one go.
Elvis tells us that he is currently on a break from adding new assets to the site, but that he plans to return to it "in the near future".