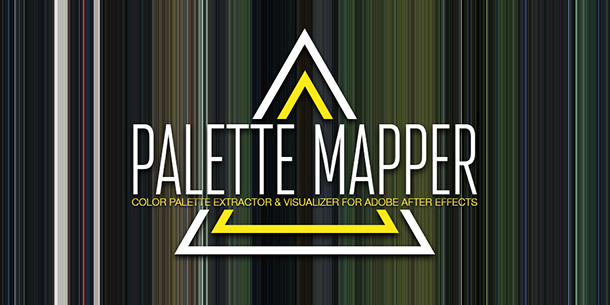 Colour scripts and palette maps are serious tools for planning and analysing movies. But they're also a neat way to turn your favourite films into decorative images.
Palette Mapper, tools developer Richard Rosenmann's free After Effects plugin, does just that, scanning each frame of a video clip to extract an average pixel colour, then displaying it as a vertical line.
Repeat the process for an entire movie, and the result is an image like the one above – the colour bars behind the logo are actually generated by a sequence from The Matrix.
An automated tool to turn movies into colour bars, with a range of input options
You can find tutorials for achieving similar effects in a range of software, but Palette Mapper automates the process, even time-compressing entire movies to fit into single images.
The plugin works in 8-bit or 16-bit mode (it can handle 32-bit footage, but converts it to 16-bit), can process colour or luminosity data, and generates images up to 30,000px wide, After Effects' internal limit.
System requirements
Palette Mapper is compatible with After Effects CS6+ running on Windows 7/10 only. It's a free download.
Download Palette Mapper for After Effects for free from Richard Rosenmann's website
Tags: 16-bit, 8-bit, After Effects, color bars, color script, color strips, download, free, palette map, Palette Mapper, plugin, Richard Rosenmann, system requirements, turn movie into color map, turn movie into color strips, turn movie into palette map