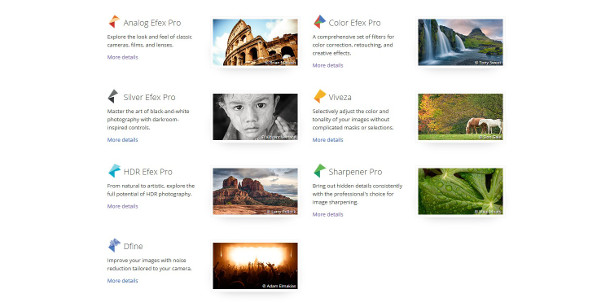 Google has made its Nik Collection of plugins for Photoshop and Lightroom available to download for free. The set of tools, previously developed by Nik Software, was originally sold for $499 before being repriced to $149.
The set of seven plugins is aimed at photographers rather than CG artists, but it includes a number of useful general-purpose tools, including colour correction plugin Color Efex Pro and HDR editor HDR Efex Pro.
Other plugins handle image sharpening, noise reduction and mimicking the look of archive film stock.
Availability
The Nik collection of plugins is available for Photoshop CS 4 and above and Lightroom 3 and above, on Windows or Mac OS X. The entire collection is free to download. Anyone who bought it in 2016 gets a full refund.
Download Google's Nik collection of Photoshop and Lightroom plugins
Tags: Analog Efex Pro, camera lens, color correction, Color Efex Pro, Dfine, download, free, Google, grading, HDR, HDR Efex Pro, Lightroom, mimic old film, Nik collection, Nik Software, noise reduction, Photoshop, plugin, sharpen image, Sharpener Pro, Silver Efex Pro, Viveza