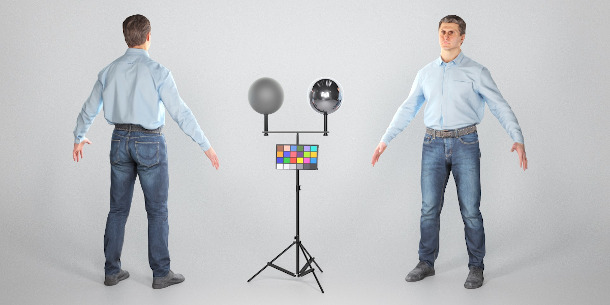 Ukraine-based photogrammetry studio Deep3d Studio has released four free 3D scanned characters in a range of common file formats with 8K PBR texture maps, all licensed for commercial use.
The set comprises a male and a female figure in the A-pose, ready for rigging; and posed male and female figures for use as static objects. All are adult white Europeans.
Free 3D scanned male and female characters in common 3D formats with PBR textures
The figures are provided in OBJ and FBX format – they're just over 30,000 faces – and as Cinema 4D scenes with 8,192 x 8,192px PBR texture maps following the metalness/roughness workflow.
You can also download the source photos from which the models were generated, along with the original cleaned high-poly models in ZTL format for further sculpting in ZBrush.
The female figures are scanned from the same actor, and show her in sportswear. The A-pose male character is dressed in casual clothing, while his posed counterpart is in military uniform.
Deep3d Studio has also made a scan of a human hand available to download along with two scans of props: one of high-tech-looking gloves, and – as a curve ball – one of a peeled banana.
Find commercial scanned characters in Deep3D Studio's online store
The free 3D characters are all described by Deep3D Studio as its 'Basic' models.
The studio also sells a range of commercial scanned characters via its ArtStation store and offers bespoke 3D scanning and post-production services via its website.

Read more about Deep3d Studio's free 3D characters in its Facebook post
Download the four free 3D scanned characters (Direct Dropbox link)
Tags: 3d character, 3D scan, 8K, banana, C4D, casual clothing, character, Cinema 4D, Deep3D Studio, download, FBX, female, figure, free, gloves, hand, high-resolution, human, low resolution, male, military uniform, OBJ, PBR, polygon count, source photos, sportswear, ZBrush, ZTL