Sunday, March 19th, 2017

Posted by Jim Thacker
Download 15 free scanned 3D characters from xoio-air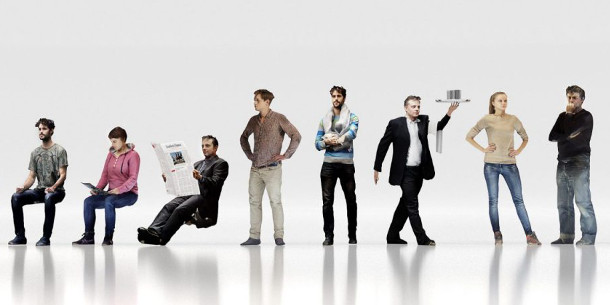 Architectural visualisation firm xoio has released 15 new free 3D scanned characters via its xoio-air site.
The collection includes male and female figures in a range of poses and styles of clothing, and are presented in a single scene, in both OBJ and 3ds Max 2013 and 2016 formats with (mostly) 2K texture maps.
All of the assets are licensed for commercial use, and can be downloaded without registering on the site.
Suitable for medium-range rendered 3D shots
In its blog post, xoio describes the scans – which were captured with the aid of Occipital's Structure Sensor – as a step up in quality from its previous free 3D characters.
Although the firm notes that they are "still a far cry" from commercial products, they hold up well in medium-range shots, and are already being used in its own commercial work.
Other new free 3D models and photographic cutouts from xoio-air
The company has also given xoio-air an overhaul. The old content – which ranges from 3D models to some very useful 2D photographic cutouts of people – is still there, but there are also some other new freebies.
These include over 30 free billboard images of flowers in vases and 10 free cutout trees created by tonytextures.com, along with a set of free terrains created in WorldMachine.