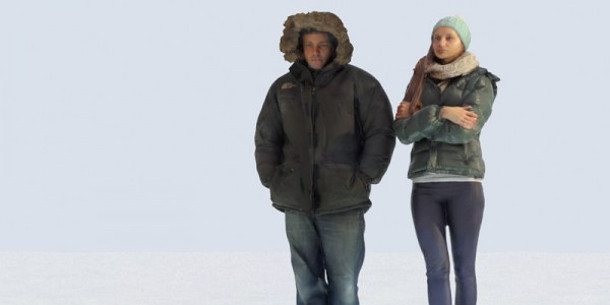 Architectural visualisation firm xoio has released two new free 3D scanned characters via its xoio-air site. The characters, one male and one female, are provided in OBJ and MAX format, and licensed for commercial use.
The scanning was done partly as internal research at xoio (you can read about the process on the firm's blog) which describes the quality as suitable for use at medium distance.
The female model is all tris, while the male figure has been converted to quads in ZBrush.
Other new free resources
xoio has also just released Winter Chalet: a free Unreal Engine 4 scene comprising a detailed architectural interior within a snowy landscape, which can be used as a learning tool – or just as a neat interactive toy.
You can find a range of other freebies via the xoio-air homepage, including 3D characters, photographic 2D cutouts, models and textures.
Download the two free 3D characters from the xoio-air website
Tags: 3d character, architectural visualization, download, female, figure, free, male, MAX, model, OBJ, resource, scanned, xoio, xoio-air