Thursday, April 2nd, 2020

Posted by Jim Thacker
Download 37 free 3D models from 3D Model Haven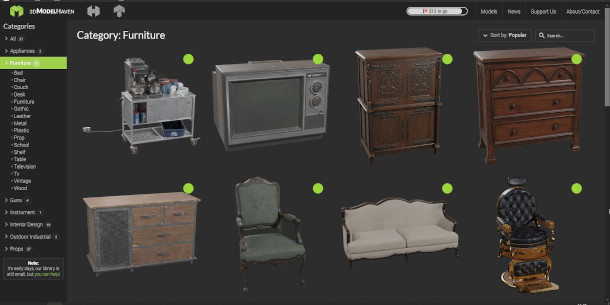 Games artist Cameron Casey and HDRI Haven and Texture Haven founder Greg Zaal have officially launched 3D Model Haven, a new online library of free high-quality 3D models.
The site includes a range of common props and environment assets, provided in standard 3D formats with PBR texture maps, under a CC0 licence.
Funded by a grant from Epic Games and Patreon backers
Run jointly by Casey – by day a 3D artist at game developer Lost Boys Interactive – and Zaal, 3D Model Haven follows a similar model to the popular HDRI Haven and Texture Haven websites.
Assets are provided free in CC0 format, making it possible to use them in commercial work, with initial funding provided by a $10,000 Epic MegaGrant, and ongoing development funded through Patreon.
Backers gain access to a private Trello board where they can suggest new models to create or vote on existing suggestions.
Download free 3D models suitable for use as games assets in FBX and Blender format, with 3D textures
At the time of posting, there are 37 models in 3D Model Haven's online library, although we'd expect that number to grow quickly now that the site has officially launched.
All are props and environment assets, both vintage and modern, including furniture, guns, industrial appliances and game staples like radioactive barrels.
The assets are provided in FBX format and as Blender scene files with 2,048 x 2,048px PBR texture maps – although the Patreon campaign is already about to hit the funding target for 4K textures.

Download free 3D models with PBR textures from 3D Model Haven