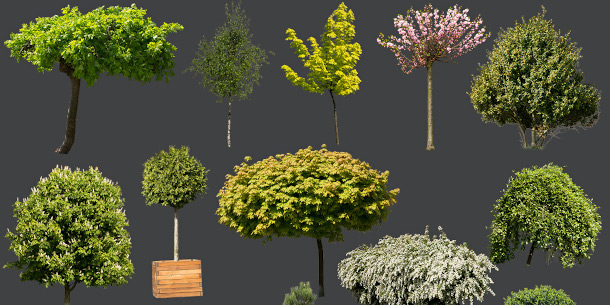 Mariusz Rawski, founder of architectural visualisation studio Gamma 2.2, has released a pack of 15 free photographic cutout plants for use in CG work.
The images are all of garden trees and bushes – both conifers and broad-leaved species – and include both trees in flower, and those that have been shaped into topiary.
Format, resolution and availability
They cutouts are provided in PNG format at widths of 2,000 to 5,500px, and are licensed for use in commercial work.
Download Mariusz Rawski's 15 free tree cutouts from Gumroad
(Enter a figure of $0 at checkout to download for free, or make a voluntary donation.)
Tags: arch viz, architectural visualization, bush, commercial use, cutout, download, flowering tree, free, Gamma 2.2, illustration, Mariusz Rawski, photographic cutout, plant, PNG, topiary, tree