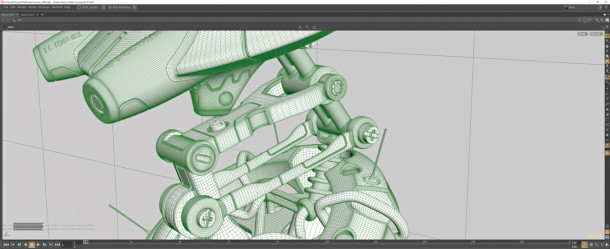 Developer Alexey Vanzhula has released Modeler 1.0, the latest incarnation of his hard surface modeling toolkit for Houdini, previously known as Direct Modeling HDA and DM.
The release – it would have been DM 2.x under the previous numbering scheme – adds new tools for aligning geometry, interactive deformation, and for handling meshes with open faces.
A classic hard surface and Boolean modelling toolkit for Houdini
First released last year under the name Direct Modeling HDA, Modeler streamlines hard surface modelling workflows inside Houdini.
The name 'Modeler' originally referred specifically to the toolkit's 'classic modelling environment', intended to make modelling workflow in Houdini more similar to that in other DCC applications.
The add-on also includes a real-time Boolean modeling system, and a library of geometric components from which users can build up models.
New tools for aligning geometry, interactive deformation, and handling open faces
Modeler 1.0 introduces a new Alignment menu, which provides access to a set of tools for centring geometry, selecting orthographic views and "quick flattening with gestures".
A new Deform menu provides interactive deformation tools, including a new Lattice tool.
Handling of meshes with open faces has been improved, with new tools for selecting and closing open polygons. Several existing tools, including Connect and Push, can now also close or process open polygons.
There are also a number of smaller improvements and bugfixes. You can find them via the link below.
Pricing and availability
Modeler 1.0 is available for Houdini 18 only. It costs $100.

Read a full list of new features in Modeler 1.0 for Houdini on the od[Force] forum
Download Modeler for Houdini from Alexey Vanzhula's Gumroad store
Tags: Alexey Vanzhula, align geometry, Boolean, Boolean modeling, center geometry, close open face, close open polygon, component library, custom menus, Direct Modeling HDA, DM, DM 2, DM for Houdini, hard surface, Houdini, interactive transformation, Lattice tool, model components, modeler, Modeler 1.0, Modeler 1.0 for Houdini, modeling, modeling environment, new features, price, Python, real time, Soft Booleans, system requirements, toolkit, transformation