Thursday, January 16th, 2020

Posted by Jim Thacker
Adobe wins tech Emmy Award for Character Animator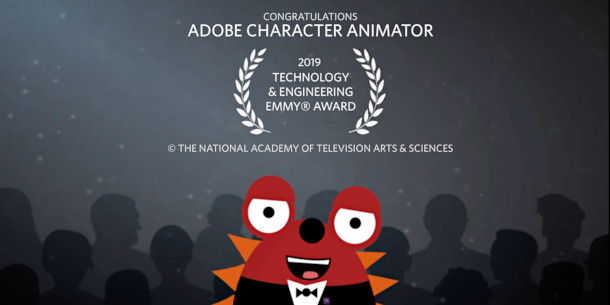 Adobe has won a technical Emmy Award for its work on Character Animator, its real-time tool for generating puppet-style character animation based on the facial performance of an actor.
The award will be presented at NAB 2020, along with this year's other Technology & Engineering Emmy Awards, made to innovations and technologies that have "materially affected television".
A pioneering semi-automatic tool for 2D facial animation
First developed six years ago as an in-house research project, and now available as a commercial tool via Adobe's Creative Cloud, Character Animator automates the process of creating animation.
The software processes video footage of a performer, transferring facial expressions and lip movements to those of a 2D character to generate puppet-style animation.
The animation can be augmented with pre-recorded character or camera movements, which can be triggered by the performer in real-time and, more as of the latest update, by keyframe editing.
As well as being widely used by YouTubers, Character Animator has been used by The Simpsons team for live broadcasts, and to produce satirical US TV series Our Cartoon President.
In its citation, Emmy organiser the National Academy of Television Arts & Sciences described Character Animator as a "pioneering system for live performance-based animation using facial recognition".
Other tech Emmy Awards go to broadcast hardware and technologies
Character Animator is the only CG application to win a Technology & Engineering Emmy Award this year: unlike last year, the rest of the awards go to hardware and general broadcast technologies.
Awards categories range from the development of HTML5, now widely used in broadcasting to the web and mobile devices, to the development of the CCD image sensors used in digital cameras.
Read a full list of winners of 2020's Technology & Engineering Emmy Awards