Monday, December 9th, 2019

Posted by Jim Thacker
Savage Interactive ships Procreate 5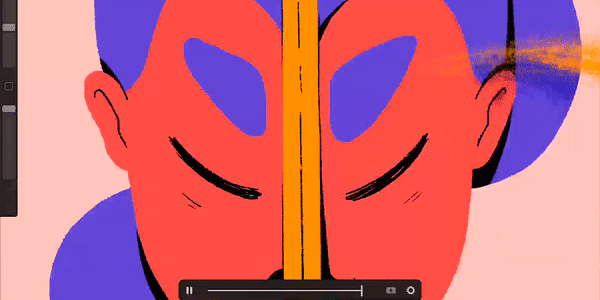 Animation in Procreate 5. Version 5 of the professional iPad sketching and painting app adds onion skinning capabilities, alongside a new brush editor, Photoshop brush import, and an updated UI.

Originally posted on 10 September 2019. Scroll down for news of the commercial release.
Savage Interactive has unveiled Procreate 5, the next update to its iPad sketching and painting app, overhauling the graphics engine and user interface, and enhancing Procreate's animation capabilities.
The release was unveiled last week at LightBox Expo, and is due to ship later this year.
A professional sketching and painting tool with an interface tailored to touchscreen devices
Used by artists at studios including Pixar and Blizzard, Procreate packages a range of professional drawing and painting tools inside an interface tailored for use on a touchscreen device.
The app currently features over 130 190 brushes, both natural media and abstract, plus a smaller range of vector drawing and transform tools.
It includes a layer system with layer groups, masks and blending modes, can export to the PSD file format, and works in DCI-P3 colour space.
As well as gestural inputs, Procreate supports pressure-sensitive drawing via the Apple Pencil stylus.
Amazingly, we've never covered it on CG Channel before, although we have covered Fresco, Adobe's rival painting app, which is currently in beta.
New in Procreate 5: Valkyrie graphics engine, new brush editor, more animation tools
Procreate 5 overhauls the app's core architecture, introducing Valkyrie, its "cutting-edge graphics engine".
It powers a new full-screen brush editor with a built-in texture generator and – according to third-party news sites, if not the Procreate website itself – the option to import Photoshop brushes into the app.
The UI has also been updated, with a floating colour picker and "redesigned transform and selection modes".
Other changes include a new Color Dynamics system, which The Verge describes as being able to modify the colour of a brush stroke according to stylus pressure and tilt.
The release also extends Procreate's animation capabilities, with the Animation Assist system adding support for onion skinning. Artists working for print get support for the CMYK colour space.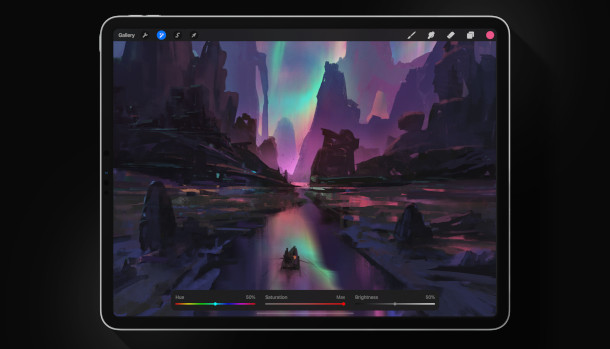 Updated 9 December 2019: Procreate 5 is now shipping.
As well as the features listed above, the update adds a new Clone tool with the option to use any brush style to give the cloned area the look of that brush.
New colour picking features include support for colour harmonies in the Color Panel – there are five different harmony profiles – and a 10-step colour history system for recently used colours.
The Color Panel can also now be detached and displayed in a space-saving miniaturised format.
Pricing and system requirements
Procreate 5 is available for iOS 13.2+. It costs $9.99.
Read an overview of the new features in Procreate 5 on Savage Interactive's website