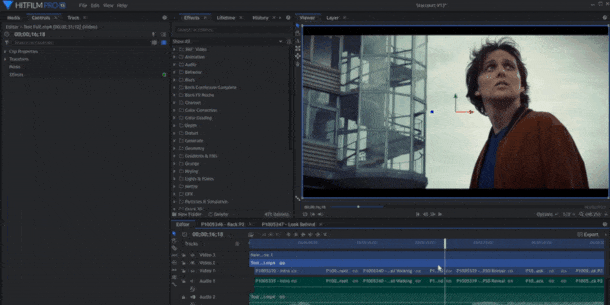 FXhome has released HitFilm Express 13.0, the latest update to the free edition of its all-in-one editing, compositing and VFX software, adding support for cinematic 4K output and several workflow improvements.
The application is popular in the hobbyist and prosumer sectors, particularly for YouTube and online broadcast work, but has also been used in conventional movie and TV effects work.
Support for DCI 4K output and mask creation in the editing timeline
The update follows a month after that of the commercial edition of the software, HitFilm Pro 13.0, and lacks its biggest feature: Foundry's 3D camera tracker, also used in NukeX and Nuke Studio.
The Express edition's integrated version of Mocha, BorisFX's planar tracker, does get an update, but it's essentially just bugfixes.
Instead, the biggest change in the Express edition is probably support for DCI 4K (4,096 x 2,160px) output: an increase over the previous maximum UHD 4K (3,840 x 2,160px) resolution.
The other changes are workflow improvements, including the option to create masks from the software's editing timeline, as shown above, rather than having to switch to the separate compositing environment.
It is also now possible to lock tracks and layers in both the compositor and editor; and to adjust the intensity of a LUT applied to footage via a new Strength slider.
Availability and system requirements
HitFilm 13.0 Express is available for 64-bit Windows 8+ and macOS 10.12+. It's a free download, while the full Pro edition costs $299. You can find a feature comparison table of the two editions edition here.

Read an overview of the new features in HitFilm Express 13.0 on FXhome's blog
Read a full list of new features in HitFilm Express 13.0 in the online changelog
Tags: 4K, camera tracking, CameraTracker, cinematic 4K, compositing, DCI 4K, download, editing, effects, free, Fxhome, HitFilm, HitFilm 13.0, HitFilm 13.0 Express, HitFilm Express, LUT, mask creation, match moving, mocha, new features, planar tracker, system requirements, vfx