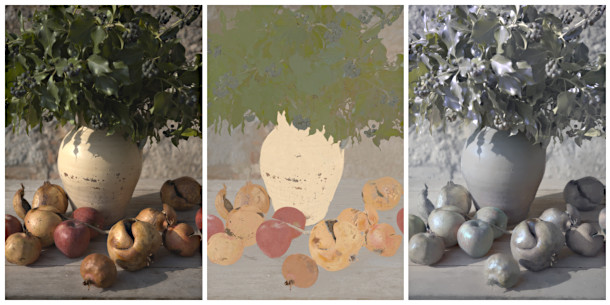 Computer vision specialist Tandent Vision Science has launched Lightbrush Cloud, a new online service for separating the surface colour and illumination components of images.
The platform, whose use cases include delighting photographic images when generating texture maps, is currently in alpha.
Originally an offline software package
We've written about the technology behind Lightbrush Cloud before, Tandent having originally released Lightbrush as a standalone application back in 2012.
The software automatically separated surface colour and lighting information from an image into separate reflectance and illumination maps, making it possible to recolorise objects or edit shadows in photos.
However, the most obvious use case was for 3D graphics, since Lightbrush could be used to remove baked lighting from photographs when generating textures.
Forum postings from people who tried the software suggest that it worked well, but at $2,500 for a perpetual licence, price was an issue, and the product was eventually withdrawn.
Since then, photogrammetry tools like Agisoft's Metashape have introduced 'delighting' features for the textures they generate, while similar functionality is available as a free Unity add-on.
Upload a camera RAW or HDR file, then add simple manual annotations to guide image processing
Unlike photogrammetry-based systems, Lightbrush Cloud can separate surface colour and lighting information from a single photographic image.
Camera RAW or HDR files are best, but Tandent says that 16-bit TIFF or EXR images are "reasonable alternatives": the system doesn't work well with gamma-corrected formats like JPEG.
Using a standard web browser, users can upload source files, then perform basic edits like cropping, scaling or rotating. There are also a range of tools for white-balancing the image.
It is then possible to annotate the image to guide automatic processing, identifying light and dark regions, or using brush-based tools to indicate those that show the same real-world material.
Processing can also be influenced by three overall control parameters, and there are tools for masking out parts of the source image, and for editing the resulting illumination and reflectance maps.
Once processed, data can be stored in a user's cloud workspace, saved as an external project file, or exported as 16-bit TIFFs, 32-bit floating point EXRs, or a layered PSD document.
Pricing and system requirements
Lightbrush Cloud is currently in alpha. You can process one image for free; after that, it costs $1 per image. Bulk subscriptions for users who need to process 100 or 500 images per month are "coming soon".
Full disclosure: we didn't manage to process an image when we tried the service earlier today, with the file upload never seeming to complete. You may have more success.

Visit the Lightbrush Cloud product website
Read the online documentation for Lightbrush Cloud
Tags: Agisoft, alpha, browser based, cloud-based, delighting, EXR, free, HDR, illumination map, Lightbrush, Lightbrush Cloud, Metashape, price, PSD, reflection map, remove baked lighting, surface color, system requirements, Tandent Vision Science, TIFF, trial, Unity