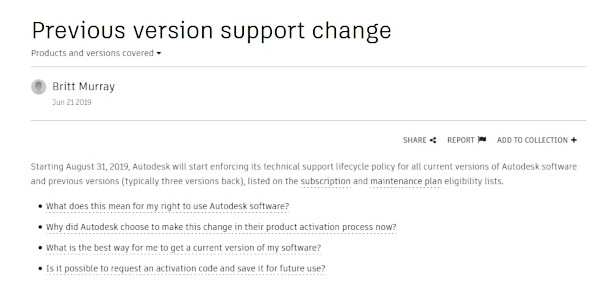 Autodesk is to stop providing new activation codes for versions of its software older than those covered by its product lifecyle policy: typically, anything more than three versions back.
The change comes into force on 31 August 2019 for the 2010 editions and older software. Other editions not covered by the lifecycle policy will stop being activated in March 2021.
The information was posted in the online documentation for AutoCAD, but applies to any product on Autodesk's list of eligible previous versions, including 3ds Max, Maya, MotionBuilder and Mudbox.
Applies to all Autodesk users, but most likely to affect old perpetual licences
Although it also applies to users on subscription, the change in version support is most likely to affect users running old perpetual licences of Autodesk's software.
Activation is typically required when upgrading hardware or the operating system on a workstation on which Autodesk software is installed.
While it will still be possible to use older software after activation is no longer available for it, that will effectively mean ceasing to upgrade the machine on which it runs.
It may also not be possible to restore older versions after a hardware crash, even if you still have the original installers and the configuration of the new machine is identical to the old one.
While Autodesk says that it is possible to request an activation code and save it for future use, "we cannot guarantee that previously-generated codes will work as intended".
Applies to the 2010 editions from this August, then more recent editions in 2021
When the change is first enforced on 31 August 2019, it only affects the 2010 editions of Autodesk products and before: that is, those at least 10 years old.
That's much longer than most people would reasonably expect to run a piece of software in production, and only affects versions released before Autodesk discontinued perpetual licences of its products in 2016.
The more significant change comes in March 2021, when Autodesk will stop activating any edition of its software not covered by its lifecycle policy.
For most Autodesk products, including Maya, Mudbox and MotionBuilder, that means anything older than three versions back, although 3ds Max is currently covered up to six versions back.
Unless the policy changes, that would mean that most, if not all, users with perpetual licences who haven't upgraded them as part of a maintenance plan will no longer be able to reactivate them.
In its online FAQs, Autodeesk attributes the change in policy to the technical difficulty of providing activation codes for older versions of its software, commenting:
"The majority of our activation code generators are built on aging technology, some of which are no longer supported by the vendors that built them.
"Aligning product activation practices allows us to retire many of the unsupported generators which reduces risk and ensures that we provide the help you need."
Read Autodesk's announcement of the changes to its product activation process
Tags: 3ds max, activation, activation code, AutoCAD, autodesk, change in activation policy, change in support, Maya, mental ray, MotionBuilder, Mudbox, product lifecycle, reactivation, reinstall software, reinstallation, softimage, technical support