Wednesday, April 10th, 2019

Posted by Jim Thacker
Marmoset ships Toolbag 3.07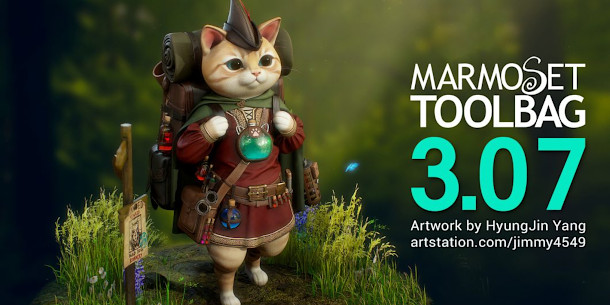 Marmoset has released Toolbag 3.07, the latest version of its real-time rendering toolkit.
The update adds support for Python callbacks, making it easier to write live link plugins for the software, and improves stability in the texture baker.
New Python callbacks for writing live link plugins
The main change in Toolbag 3.07 are the new Python hooks for the onPeriodicUpdate and onRegainFocus callbacks, which can be used to make regular checks of external files.
That should make it easier for studios and tools developers to write live linking plugins to DCC applications, enabling changes made to an asset in another app to be displayed in Toolbag in real time.
Other than that, it's primarily a bugfix release, particularly when it comes to baking textures.
Since we last wrote about the software, Marmoset has also added support for indexed colour and greyscale formats when writing BMP files, and added a Ray Search Distance setting for ambient occlusion maps.
Pricing and availability
Toolbag 3.07 is available for Windows 7+ and macOS 10.12+. The update is free to registered users. New licences cost $189 for individual artists and $379 for studios.

Read an overview of the new features in Toolbag 3.07 on the product website
Read a full list of new features in Toolbag 3.07 in the online changelog