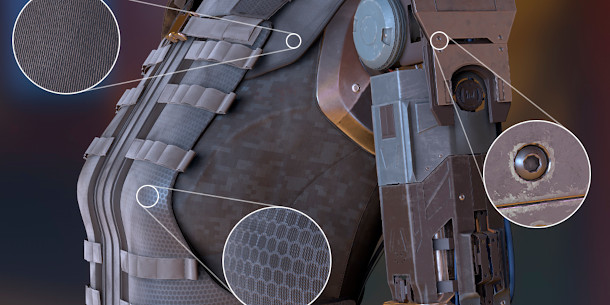 Allegorithmic has released Substance Painter 2018.3, the latest update to its 3D texture painting software, described as a "huge boost in performance" and viewport quality.
The update also improves workflow when using the symmetry tools and layer stack.
As with the firm's other recent releases, it's referred to as the 'Fall 2018' update in some of the marketing material, but 2018.3 in the release notes, so that's what we're calling it here.
Support for sparse virtual textures improves display performance on large scenes
Under the hood, Substance Painter 2018.3 features a "completely rewritten memory and texture management system", making it possible to work interactively on much larger scenes.
A key change is the use of sparse virtual textures for the viewport display.
That means that Substance Painter loads only those texture tiles required in the current view, making it possible to work with textures that are larger than can fit into available GPU memory.
The system is hardware-accelerated on current Nvidia and AMD GPUs – both workstation and consumer cards – although not on Intel's lower-end integrated GPUs, for which there is a software fallback.
According to Allegorithmic, Substance Painter can now display "up to 300 UV tiles with no hiccup".
There are also several other significant changes to the viewport, including support for mipmapping and temporal anti-aliasing, intended to reduce moiré artefacts and improve the smoothness of visible edges.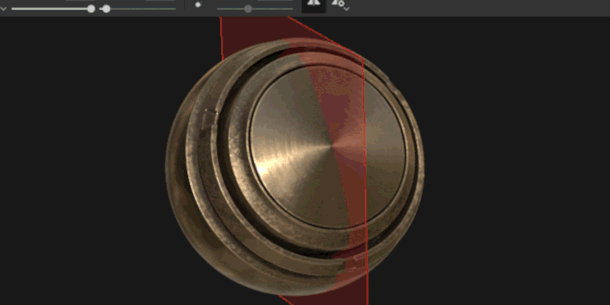 Improved texture export, symmetry painting and layer workflow
New functionality in Substance Painter 2018.3 includes the option to export the 2D viewport as a single diffuse texture, with lighting and reflections baked in, aimed at artists working on mobile games.
The software also now uses dithering when exporting textures in 8-bit formats to reduce edge artefacts.
Workflow improvements include the option to move the symmetry axis freely via a 3D manipulator or a new UI panel when using symmetry painting, and colour coding for layers and layer groups in the Layer Stack.
New anisotropic shader and Texturingxyz facial scan
Other changes include a new anistropic shader for materials like hair or brushed metal, plus support for anisotropy in the built-in Iray render engine; and an updated clearcoat shader for car paint.
The release also comes bundled with a new 8K scan of a female human face captured by Texturingxyz, intended as a stock resoure for recreating fine skin details.
You can find a full list of changes in the online release notes.
Pricing and availability
Substance Painter 2018.3 is available for Windows 7+, CentOS 6.6/Ubuntu 16.04 Linux and Mac OS X 10.11+.
New Indie licences, intended for artists and studios earning less than $100,000 per year, cost $149, including 12 months' maintenance. Further updates cost $75/year. A floating Pro licence costs $990.
Read an overview of the new features in Substance Painter 2018.3 on Allegorithmic's blog
Visit the Substance Painter website
Tags: AMD, anisoptropic shader, anisotropy, clearcoat shader, dithering, facial scan, Fall 2018, GPU-accelerated, GPU-based, graphics memory, layer stack, megatextures, new features, NVIDIA, price, Sparse Virtual Textures, Substance Painter, Substance Painter 2018.3, symmetry painting, system requirements, texture streaming, Texturingxyz, update, UV tiles, VRAM