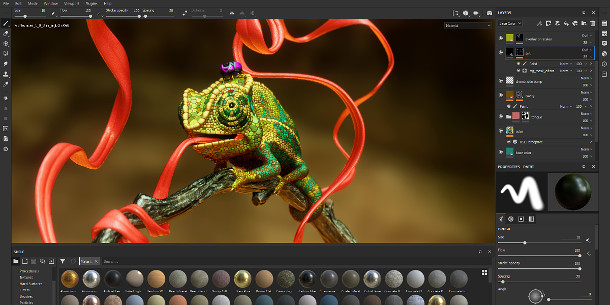 Allegorithmic has released Substance Painter 2018.1, the latest update to its 3D texture painting software, decluttering the user interface and improving painting performance when working at high resolutions.
As with sister application Substance Designer 2018.1, released earlier this week, the update is referred to the 'Spring 2018' release on Allegorithmic's blog, but 2018.1 in the release notes, so take your pick.
New UI design minimises on-screen clutter
The most visible change in Substance Painter 2018.1 is the revamped user interface.
As with Foundry's recent makeover of Mari's UI in Mari 4.0, a key aim has been to minimise clutter and maximise screen space for the asset being painted.
Some of the design solutions are the same as in Mari: windows are now minimised to a vertical toolbar on the right of the screen, popping out temporarily when you click on them, or permanently if you tear them off.
There is also a new contextual toolbar at the top of the viewport and a contextual right-click menu, both providing quick access to key settings for the tool currently selected.
Lighting, Camera and Display settings have now been merged into a single tabbed window, while shader parameters have been split out into their own separate window.
In addition, it is now possible to drag and drop materials and smart materials directly onto a mesh in the viewport: a handy time-saver when applying new materials.
Allegorithmic says that similar UI designs will roll out across its other software later this year.



Improved performance and seam padding, new 3D noise types
Performance has also been improved: shelf loading gets the biggest speed boost at "as much as six times faster", but general loading, saving, viewport performance and thumbnail generation all benefit.
Painting performance is also improved, particularly at high resolutions, or on low-end hardware.
Other changes include improved seam padding when painting across UV islands, and as with Substance Painter 2018.1, there are a set of new 3D noises and a new 3D linear gradient generator for creating masks.
Pricing and availability
Substance Painter 2018.1 is available for Windows 7+, CentOS 6.6 or Ubuntu 12.4 Linux and Mac OS X 10.11+.
New Indie licences, intended for artists and studios earning less than $100,000 per year, cost $149, including 12 months' maintenance. Further updates cost $75/year. A floating Pro licence costs $990.
Read an overview of the new features in Substance Painter 2018.1 on Allegorithmic's blog
Visit the Substance Painter website
Tags: 3D linear gradient, 3D noise, 3D painting, Allegorithmic, drag and drop, new features, performance, price, seam padding, speed boost, Spring 2018, Substance Painter, Substance Painter 2018.1, texture painting, texturing, UI, user interface