Tuesday, April 17th, 2018

Posted by Jim Thacker
Soft8Soft releases Verge3D 2.3 for 3ds Max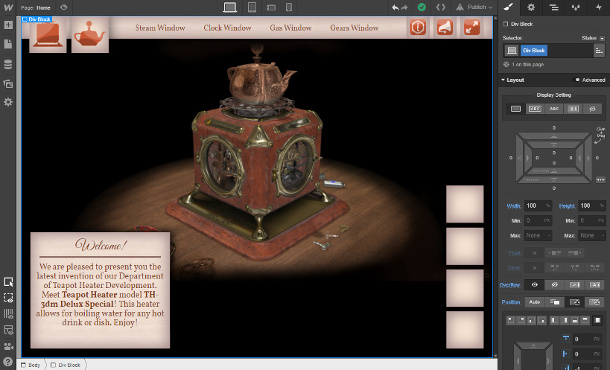 A demo created in Verge3D for 3ds Max. Version 2.3 of the framework adds new UI-authoring capabilities to Puzzles, Verge3D's visual editor, which can be seen in action in the live version of this scene.

Soft8Soft has releasd Verge3D 2.3 for 3ds Max, the latest version of its platform for converting 3ds Max scenes into WebGL-based 3D web applications.
The update adds basic support for V-Ray materials, increases export speed by up to 10x, and extends the framework's Puzzles editor to make it easier to design UI elements.
A new framework for authoring interactive web apps inside Blender and 3ds Max
Founded by Blend4Web creator Yuri Kovelenov and his brother Alexander after a split from their former business partners, Soft8Soft now develops its own WebGL authoring framework.
Like Blend4Web, Verge3D lets users convert 3D scenes into interactive content that can be viewed in a browser, although it's primarily aimed at "e-commerce, marketing/PR and e-learning" rather than games.
As well as 3ds Max, it is available for Blender, with the Blender edition currently on version 2.2.
New in Verge3D 2.3 for 3ds Max: basic support for V-Ray materials, export speed boosts
New features this time round include "basic" support for V-Ray materials.
According to Soft8Soft: "Although we don't have the intention to support materials from external renderers, in this version … they can be at least exported."
The update also overhauls the framework's preview and glTF/GLB export functionality, with Soft8Soft claiming a 10x speed improvement over previous releases.
Exported files can now use LZMA as well as gzip compression, resulting in a reduction in file size of up to 6x.
There are also a number of smaller changes that affect workflow inside 3ds Max itself, including better export of transparent textures, and improvements to the PBR material system.
Create more complex UIs for apps without coding
Outside of Max, Puzzles – Verge3D's visual programming environment – has been updated to make it easier to create user interfaces for apps.
HTML elements in interfaces created in Puzzles can now trigger changes to a 3D scene being rendered in the browser, and vice versa, as seen in this fairly complex demo scene.
Interface layouts can be created in any WYSIWYG editor capable of exporting HTML, CSS or JavaScript files.
Pricing and availability
Verge3D 2.3 for 3ds Max is available for 3ds Max 2015 and above.
The software can be trialled for free: for production, a personal licence costs $290, a team licence costs $990, and an enterprise licence – which gets you source code access – costs $2,990.
Read a full list of new features in Verge3D 2.3 for 3ds Max on Soft8Soft's website