Friday, February 9th, 2018

Posted by Jim Thacker
Soft8Soft releases Verge3D

An overview of Verge3D, Soft8Soft's new platform for authoring 3D web applications, recorded by beta tester Will Welker. The system enables users to convert Blender and 3ds Max scenes to interactive content.

Originally posted on 5 December 2017. Scroll down for news of the new 3ds Max edition.
Soft8Soft, a startup founded by Blend4Web creator Yuri Kovelenov and his brother Alexander, has released Verge3D, a new platform for authoring WebGL-based 3D web applications.
(Full disclosure: it came out a couple of weeks ago, but we didn't manage to cover it at the time.)
Like Blend4Web, Verge3D enables users to convert Blender assets into interactive content that can be viewed in a browser, but Soft8Soft is also planning integrations with other DCC software, including 3ds Max.
Create 3D content for interactive WebGL applications directly inside Blender
Verge3D integrates directly with Blender, enabling users to create 3D geometry, materials and animations inside the software, then export them in the JSON-based glTF format.
Interactive functionality can be added via JavaScript, either by writing code directly or by using Puzzles, Verge3D's visual programming environment.
Being based on WebGL, the resulting interactive application should display natively in most web browsers, without the need for plugins.
So what's the difference to Blend4Web?
According to Soft8Soft, the only relationship between Blend4Web and Verge3D is that "both were created by the same guys", and that "no single line of code is borrowed from Blend4Web".
Materials and animation created using one platform will only be "partially compatible" with the other.
Unlike the more broadly focused Blend4Web, Verge3D is primarily intended for authoring interactive 3D content for "e-commerce, marketing/PR and e-learning", and will lack Blend4Web's gaming features.
The platform is also less closely tied to Blender, using popular JavaScript library three.js rather than its own WebGL engine.
Soft8Soft says that it plans to release integrations for other common DCC tools in future: the download page already lists 3ds Max as "under development", and a separate blog post namechecks Cinema 4D.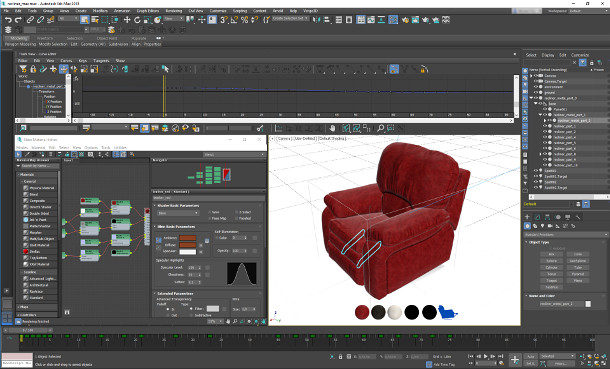 Updated 9 February 2018: Soft8Soft just released Verge3D for 3ds Max. The software works in the same way as its Blender counterpart, enabling users to turn 3D assets created in Max into interactive content.
Pricing and availability
Verge3D is available for the current release of Blender, running on Windows, Linux or Mac OS X, and for 3ds Max 2015 and above, running on Windows.
The software can be trialled for free: for production, a personal licence has an MSRP of $290, a team licence an MSRP of $990, and an enterprise licence – which gets you source code access – an MSRP of $2,990.