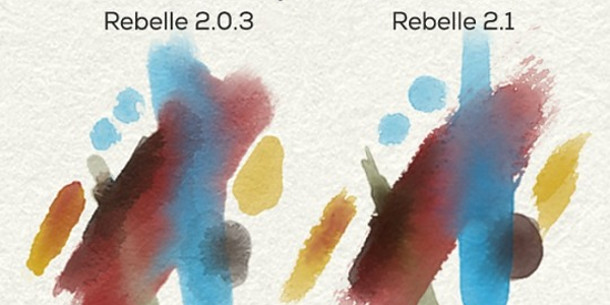 Escape Motions has unveiled Rebelle 2.1, the next update to its fluid-simulation-based digital painting tool, improving blending of watercolours, and adding support for brush stroke smoothing and auto-saving.
Control liquid paint in real time
Rebelle mimics the behaviour of watercolour and acrylic paint, complete with fluid flow and blending. Users can control the flow of the paint in real time by tilting or blowing on the virtual page.
Colours blend realistically, and there are controls for smudging and blending paint, and for progressively erasing brushstrokes that have already been created.
The software can also mimic the behaviour of dry media, including pencil, pastel and marker.
New in 2.1: improved watercolour blending, automatic smoothing of brush strokes
Although it's nominally a point update, there is quite a lot of new functionality in Rebelle 2.1.
Simulation of watercolour has been updated, making strokes blend more smoothly when working wet-on-wet, although comments on Escape Motions' blog suggest that some users experience a performance hit.
Updated: Escape Motions tells us that the slow-down was the result of a bug that has now been fixed.
The brush renderer has also been updated, improving the display of thin strokes and adding support for automatic stroke smoothing – a feature only recently added to Photoshop.
Workflow changes include a new autosave feature, which preserves the last 20 versions of a painting; plus the option to create your own custom groupings for tools, and to copy and paste brushes between tools.
You can see a full list of chages via the link at the foot of the page.
Pricing and availability
Rebelle 2.1 is shipping for Windows Vista+ and Mac OS X 10.10+. It costs $89.99.
Read more about the new features in Rebelle 2.1 on Escape Motions' blog
Tags: acrylic, brush engine, digital painting, Escape Motions, fluid simulation, Ink, marker, natural media. fluid flow, new features, pastel, pencil, price, Rebelle, Rebelle 2.1, stroke smoothing, stroke stablization, watercolor, watercolor blending