Adobe has released its latest update to Photoshop, adding new brush organisation options, automated smoothing for strokes, and a new Curvature Pen tool similar to its counterpart in Illustrator.
The update was released at Adobe MAX 2017 alongside new versions of After Effects and Premiere Pro, plus 2D animation tool Character Animator CC and new rendering and compositing tool Dimension CC.
In a break from Adobe's previous version numbering strategy, it seems to be known either as 'Photoshop CC (October 2017)' or – confusingly – just 'Photoshop CC', depending where you look on Adobe's website.
New brush organisation and brush preview options
Whatever its official name may be, Adobe describes the update as a "big release for painting and illustration", adding a number of improvements to the way in which brushes work.
Chief among them is new brush organisation system, including options to create folders and drag brushes between them, scale the brush stroke preview, and save presets with opacity, flow, blend mode, and colour.
Such workflows previously required third-party plugins like MagicSquire, itself updated last week.
More drawing and brush performance improvements
Other new drawing options include automated smoothing for brush strokes, helping to even out kinks in lines drawn freehand. The intensity of the effect can be controlled via a Smoothing slider in the Tool Options bar.
There is also a new Curvature Pen tool, which enables users to draw vector paths by manipulating curve segments directly, rather than having to drag Bezier handles, in the same way as Illustrator's Curvature tool.
Overall brush performance has also been improved, although Adobe doesn't quantify the speed boost, beyond saying that it should be "especially noticeable … on large documents with large brushes".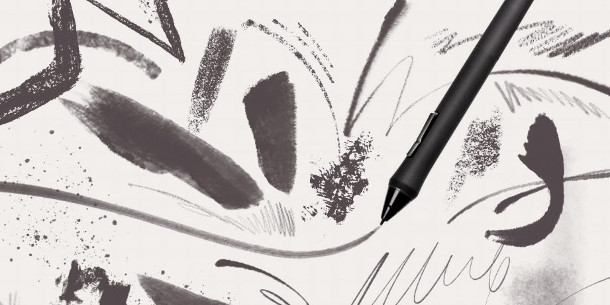 New readymade natural media brushes from Kylebrush.com
Photoshop users also get access to 25 new readymade brushes mimicking natural media, previously available commercially through Kylebrush.com, which Adobe has just acquired.
More of the original set of 1,000 brushes will be added in future releases. Site creator Kyle T. Webster also joins Adobe and will "work closely … on the development of future brushes for Creative Cloud".
The buyout means that the brushes are no longer available for Photoshop CS5 and CS6: existing users will no longer be able to re-download the files if they become corrupt, and will receive forum-only support.
Other new features: improved panorama export, variable fonts, workflow improvements
Photoshop CC (October 2017) also adds the option to export 360-degree panoramas, preserving the metadata required for use with third-party viewers.
It is also possible to pan and zoom around images in a 360-degree workspace within Photoshop itself.
Other new features include the option to copy and paste leyars in groups; a Quick Share option for sharing a flattened preview of a PSD file via email or social media; and improvements to paths and masks.
The software also now supports variable fonts, enabling users to adjust weight, height and slant precisely, via slider-based controls or numerical input.
Inline help has also been expanded, with a new Learn panel for short tutorials, and more detailed tooltips.
Pricing and availability
Photoshop CC (October 2017) is available for Windows 7 and above and Mac OS X 10.11 and above.
Like all Adobe software, it is available rental-only, with a new annual subscription costing $9.99/month for Photoshop CC and Lightroom – the old version of which has been renamed Lightroom Classic to distinguish it from a new cloud-based version, Lightroom CC – or $49.99/month for all of Adobe's creative tools.
Read an overview of the new features in Photoshop on Adobe's blog
Read a full list of new features in Photoshop CC (October 2017) in the online changelog
Tags: Adobe, Adobe MAX 2017, brush peformance, brush preview, brush smoothing, bush organization, Curvature Pen tool, Kyle T Webster, Kylebrush, layers, Lightroom, Lightroom CC, Lightroom Classic, Magic Squire, masks, new features, paste multiple layers, paths, Photoshop, Photoshop 19, Photoshop CC, Photoshop CC (October 2017), Photoshop CC 2018, price, Quick Share, stroke smoothing, variable fonts