Sunday, December 3rd, 2017

Posted by Jim Thacker
Download over 200 free kitbash and layout models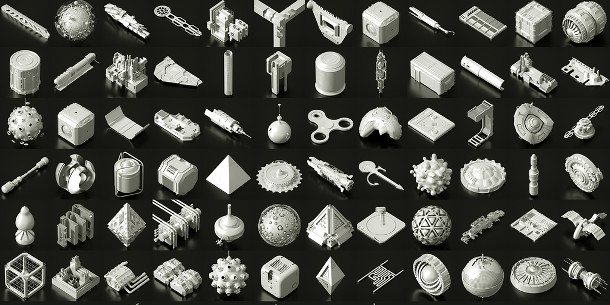 3D artist Constantin 'The French Monkey' Paschou has released the TFMStyle asset pack: an amazing collection of over 200 models in OBJ format that can be used for kitbashing or scene assembly.
The models, which range from generic components like walls and machine parts to entire buildings, spacecraft and even posed human figures, particularly suit futuristic or sci-fi-themed work.
All of the files are licensed for commercial use under a Creative Commons CC0 licence.
More free and commercial resources for Cinema 4D and World Machine users
Paschou created the models as part of his own Everydays project, a collection of daily renders ranging from abstract imagery to landscapes and photorealistic characters.
All of the source files – created in Cinema 4D using either the native render engines or Corona – are also available to download for free under an open source licence.
Paschou has collected some of the other assets from the Everydays project into free Cinema 4D libraries, including hair and skies; and sets of maps for World Machine.
If you want to support Paschou's work, he also sells commercial resource kits and has a Patreon page – or, of course, you can make a voluntary donation via Gumroad.

Download the free TFMStyle asset pack of OBJ models via Gumroad
(Enter a figure of $0 to get the files for free)
See Constantin Paschou's Everydays renders and commercial resources on his website