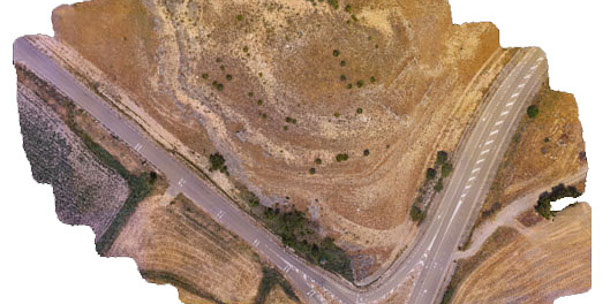 Eos Systems has released PhotoModeler 2017, the latest update to its line of image-based modelling and measurement software, updating its orthophoto and surface reconstruction toolsets.
Although widely used in industries like engineering, surveying and forensics, PhotoModeler is also a full-featured photogrammetry package for entertainment work, generating highly accurate 3D models.
Improvements to the orthophoto and orthomosaic toolsets
The 2017 releases "significantly revamps" PhotoModeler's orthophoto and orthomosaic toolset, designed to generate an orthographic 2D representation of a real-world surface from a set of source photos.
According to Eos Systems, the update improves performance and memory usage, and while it doesn't quantify the improvement, it cites the 50,000 x 34,000px test scene shown above as an indication of the scale of projects that can be created.
The update also improves colour balancing across source images, and reduces ghosting in the final output. You can read a more detailed discussion on Eos Systems' website.
Users of the higher-end editions can now generate quick, low-res representations of surfaces
Users of the Scanner and UAS editions of the software also now get the option to generate a low-density representation of a surface when first processing a SmartProject.
The low-res surface can be used to generate a textured preview or orthomosaic without having to run PhotoModeler's more computationally expensive Multi-View Stereo (MVS) tool.
Smaller changes
Other changes include improvements in calibrating lens distortion from single images, designed for use in forensic work, where images are taken from surveillance cameras.
There are also a number of smaller fixes and updates, which you can find via the link below.
Pricing and availability
PhotoModeler 2017 is available now for Windows Vista and above. The base edition costs $1,145, while PhotoModeler Scanner, which adds SmartMatch and support for point cloud scan data, costs $2,495.
The top-of-the-range edition, PhotoModeler UAS, which is designed specifically for use with drone photography, costs $3,495. See a feature comparison table here.

Read a full list of the new features in PhotoModeler 2016
Tags: Eos Systems, image based modeling, low density, new features, orthographic, orthomosaic, orthophoto, performance improvement, Photogrammetry, PhotoModeler, PhotoModeler 2017, PhotoModeler 2017 Scanner, PhotoModeler 2017 UAS, preview, price, speed boost, surface reconstruction