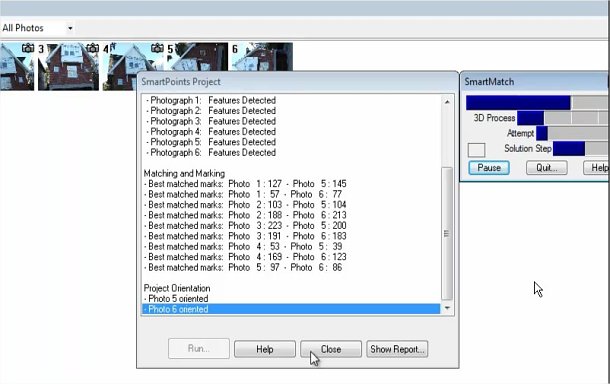 PhotoModeler Scanner's new ImageMatch feature helps automate the set-up of photgrammetry projects.
Eos Systems has released new versions of its PhotoModeler image-based modelling and measurement software, updating the core algorithms for multi-core CPUs and cutting the price of the Scanner edition.
The developer claims that a PhotoModeler 2010 user with a four-core machine will experience speed boosts of up to four times over the previous version of the software during project processing.
The Coded Target module, which automatically identifies special reference markers used in photo shoots, speeding up large projects, is now included free with both versions of the software.
Users of the PhotoModeler Scanner edition, which includes additional functionality for handling point cloud data, get the new SmartMatch feature, which helps automate the set-up process. The cost of PhotoModeler Scanner also drops by $100 to $2,595.
PRESS RELEASE (Excerpts)
PhotoModeler, a Windows application, is used to create 3D models and measurements from photographs using ordinary digital cameras. PhotoModeler Scanner software adds the capability of creating dense point clouds like a laser or 3D scanner but eliminates the need for expensive and cumbersome equipment. The flexibility in using the ubiquitous digital camera offers sophisticated 3D capabilities for technical professionals and home users alike.
Both ends of this user spectrum have one thing in common : a seemingly insatiable appetite for 3D data, whether it is for creating industrial goods, performing scientific research, investigating crimes and accidents, developing video games and multimedia content, or just browsing through day-to-day information presented with the richness of 3D. The missing ingredient has always been a versatile, cost-effective and efficient method of generating 3D of an infinite number of real world subjects of varying sizes and shapes. PhotoModeler is the missing ingredient.
With a new cornerstone feature in PhotoModeler Scanner 2010 called SmartMatch, the result can often be a stunning, photorealistic 3D model generated from photographs entirely automatically. SmartMatch detects and matches natural features in images – giving automated project setup and 3D data without the use of targets.
In addition, all of the software's core algorithms have been rewritten for higher performance, and many of the algorithms are now threaded to take advantage of modern multi-core CPUs. Comparing the previous version PhotoModeler 6 to the new PhotoModeler 2010 on a four core computer, a user may experience speed improvements of up to 4x in project processing, 16x with automatic target marking, and 32x during Dense Surface Model creation.
PhotoModeler 2010 is the culmination of two years of development, combining Eos' own research with feedback from our users, helping to push the new version onward to the key goals of more results, in less time, with less work.
In addition to the speed improvements and SmartMatch, other new features include support for geographic coordinates (geoids, map-systems, conversions); on-photo dimensions; an automated in-background project review; and a new External Geometry Explorer that consolidates control points, scale, rotation, external CAD file import and adds check distances, and multi-point affine.
Pricing and Upgrades
PhotoModeler 2010 includes the Coded Target module, which was an extra-cost option previously. PhotoModeler 2010 is priced at $1,145. To upgrade from any previous PhotoModeler version is $445.
PhotoModeler Scanner 2010 is price reduced to $2,595, and the cost to upgrade from the previous version is $795. PhotoModeler customers can also trade up to PhotoModeler Scanner 2010 for $1,595.
All customers that purchased PhotoModeler 6 or PhotoModeler Scanner 6 on or after July 28th, 2010 are eligible for a free upgrade to the 2010 versions.
View a complete list of new features in PhotoModeler 2010