Allegorithmic has released Substance Designer 5.6, a new update to its texture-creation software, adding eight new filters for blending scanned real-world materials and for generating accurate normal and AO maps.
All of the new filters – which include tools for creating good-looking surface water and snow cover for terrain – come with their source .sbs files, enabling users to customise them to a project.
First of a new batch of tools for working with photogrammetry-based materials
Allegorithmic describes the filters as the first part of a new set of tools designed for working with scanned real-world materials: a philosophy discussed in this blog post.
Such materials are becoming an increasingly common part of games workflows thanks new online libraries like Quixel's Megascans and Allegorithmic's own Substance Source.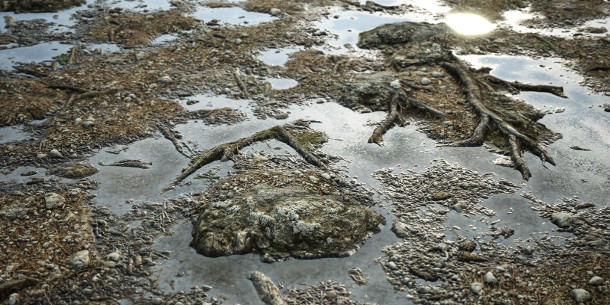 One common use for scanned materials is in creating terrain: the focus of many of the new filters.
The update includes new Height Blend and Material Blend Height nodes for blending materials according to their height maps, and specific variants for adding snow cover or surface water to materials (above).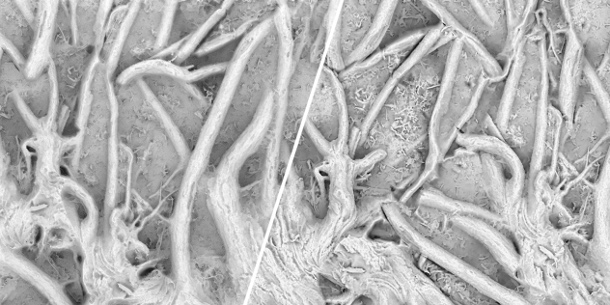 Left: AO map raytraced from a high-poly mesh. Right: AO map generated from the Horizon Based AO node.
There are also more general-purpose tools for generating accurate normal and ambient occlusion maps for a surface by enabling the user to specify its real-world width, length and maximum height.
The Horizon Based Ambient Occlusion node, in particular, seems to generate highly detailed results, with Allegorithmic describing it as "rivalling the quality of a raytraced bake in only a few milliseconds".
There is also a new Color Match node, for adjusting the overall tint of scanned materials without affecting fine details, enabling users to blend materials with differing albedos.
Finally, the Non-Uniform Histogram Scan node extends the existing Histogram Scan with inputs to drive the contrast and level of the masks it generates on a per-pixel basis, for more controllable weathering effects.
Pricing and availability
Substance Designer 5.6 is now shipping for Windows, Linux and Mac OS X. An Indie licence, available to anyone earning under $100K/year, costs $149; Pro and Studio licences cost $590.
Read a full list of new features in Substance Designer 5.6 on Allegorithmic's blog
Tags: Allegorithmic, ambient occlusion, AO, Color Match, filter, Height Blend, height map, Horizon Based Ambient Occlusion, Material Blend Height, material blending, new features, node, Non-Uniform Histogram Scan, normal map, Photogrammetry, price, real-world material, scanned material, Snow Cover, Substance Designer, Substance Designer 5.6, Water Level